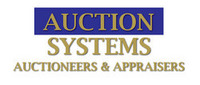 This business liquidation auction is an incredible opportunity for individuals interested in auto repair
Phoenix, AZ (Vocus) October 6, 2010
Scottsdale auctioneers, Auction Systems Auctioneers & Appraisers Inc., will be hosting an all cash auto repair business liquidation auction featuring tools, diagnostic equipment, lifts and more on Tuesday, October 12, 2010. Items will also be available for online bidding Tuesday, October 5, 2010.
Items of interest for this auction include: Devilbiss Pro Air II Air Compressor, Western 9,000 LB Hydraulic Lift, Snap-On AES Ntron AC Retriever, For 134A And R12, Sears Craftsman Battery Charger, Benwil 7,000 LB Hydraulic Lift, 600-7, Ryobi Metal Cutoff Saw, Snap-On Rolling Hydraulic Car Lift, Chicago Electric Parts Washer and more.
"This business liquidation auction is an incredible opportunity for individuals interested in auto repair," said Deb Weidenhamer, CEO of Auction Systems. "It will feature commercial-grade repair equipment and a fraction of the market price."
Other items of interest include: Lincoln Electric Wire Feed Weld Pack With Argon, Blue-Point ¾ Ton Auxiliary Stand, Pneumatic Oil Drain Tank, Allied Transverse Engine Lift, Allied Transmission Jack, Kent-Moore AC Recovery System For R12, Lincoln Electric, Arc Welder, Craftsman 2 Piece Rolling Tool Box and a Dell Computer With Monitor.
The auction will be held on Tuesday October 12, 2010 and will begin at 10:00 a.m. at the auto repair shop located at 907 S. 7th Avenue in Phoenix. All of the items listed in the auction may be previewed and inspected by interested bidders on Monday, October 11, 2010 from 10:00 a.m. to 2:00 p.m. and on auction day from 9:00 a.m. to 10:00 a.m., one hour prior to the auction.
Items will also be available for preview and online bidding on Tuesday, October 5, 2010, ending at midnight prior to auction day. Interested parties can visit Auction System's Auction Page to preview and sign up for online bidding.
About Auction Systems Auctioneers & Appraisers, Inc.
Auction Systems Auctioneers & Appraisers, Inc. is the Southwest's most active auction and appraisal company. Auction Systems features live and live simulcast auctions and appraisals of stolen and confiscated Police and personal product including cars, tools, electronics, jewelry, sporting, coins and surplus, as well as auctions of commercial and heavy equipment, real estate, antiques, guns, estate and business liquidation and bankruptcy.
Based in Phoenix, Arizona and an INC. 500 company, Auction Systems is one of the fastest growing privately held companies within the United States. Additionally, Auction Systems is an ICIC INC. 100 company and is ranked as the #1 fastest growing woman-owned business and the fifteenth fastest growing business overall within the inner cities of the United States. Auction Systems is featured in TLC's newest reality series, AUCTIONEER$.
Auction Systems Auctioneers & Appraisers, Inc. can be found on the web at http://auctionANDappraise.com.
# # #