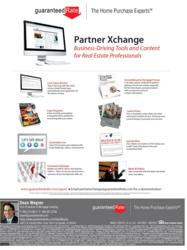 Enter Dean Wegner on the Partner Xchange to keep up to date with all the latest from a great mortgage leader
Scottsdale, AZ (PRWEB) February 15, 2013
Dean Wegner of Guaranteed Rate Mortgage and captain of TEAM DEAN is proud to announce the latest tools for consumer research, the Realtor Partner XChange and the TEAM DEAN smartphone app for iPhone and Droid.
Guaranteed Rate, Inc., America's Fastest Growing Mortgage Company, launched Partner XChange, an exclusive website designed to help real estate agents and other business partners drive more business. Offering unique content and personalized tools, Partner XChange makes it easy for real estate agents to stay in touch with, and provide better service to, their customers.
"Many of my clients are people moving to Arizona, its great to offer valuable tools for my Realtors. They appreciate the refferals from agents in other states" Dean Wegner
The Partner XChange offerings include: "Enjoy Magazine", an exclusive electronic monthly publication full of timely tips and information related to travel, food, fitness and more that can be easily personalized by real estate agents and shared with clients via email and social networks; Custom Flyers that agents can use to quickly create property brochures to send to their clients; Home Loan Application Status, a one-click view of an agent's clients' mortgage status; and a comprehensive and constantly updating set of mortgage and real estate news and videos. Additionally, agents who sign up for the Partner XChange are listed in two exclusive, national search databases - one for agent referrals and another for customers.
iPhone, iPad and Android users looking to buy a home or refinance can now calculate mortgage payments with the new app from Dean Wegner and TEAM DEAN.
"The demand for mobile phone technology to assist us in what we want to know now, is growing faster than ever" said Dean Wegner, Vice President of Residential Lending and Team Captain of TEAM DEAN. "Realtors and consumers alike will enjoy having the benefit of knowing the monthly payment and closing costs at the touch of a button."
The app is free and available on iPhone and Droid. Simply enter the sales price and the app will easily assist you from there. In addition there are several easy links to communicate with members of TEAM DEAN to serve your mortgage needs.
Mortgage & Finance Expert Dean Wegner is a leader in housing with over 19 years of experience. Dean is Vice President of residential lending for Guaranteed Rate Mortgage in Scottsdale, AZ. Wegner is a member of over 25 financial organizations and a Certified Consumer Credit Counselor. He has spoken to the media about housing over 1,000 times, including cover stories in The USA Today and appearing on CNBC's "On The Money". Women's Entertainment Network (WeTV) features Wegner as the Financial Guru in their hit reality show "Downsized." Wegner is also an accomplished author and his recent release "Life After Foreclosure" is available in book stores nationwide. Wegner owns a Real Estate School and wrote the 255-page guidebook," How to Pass the Arizona Real Estate Sales Exam". He also shares his expertise as a business coach for four years with The CORE Training, Inc. His community involvement includes being a Rotarian, a Board Member of Big Brother Big Sisters of Arizona and a founding member of Uncle Skate Charity. Wegner lives in Arizona and enjoys spending time with his three wonderful daughters.