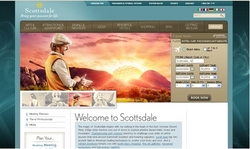 The site design incorporates our new brand direction and provides travelers with a more comprehensive and visually engaging online experience
Scottsdale, AZ (PRWEB) March 2, 2009
More than 78 percent of Americans use the Web to make travel decisions, according to the Travel Trust Index Report. Therefore, to keep Scottsdale top of mind with the traveling public, the Scottsdale Convention & Visitors Bureau launched a newly designed Web site, Experience Scottsdale, that offers a more comprehensive experience for all users.
"The site design incorporates our new brand direction and provides travelers with a more comprehensive and visually engaging online experience," said Lauren Simons, vice president of marketing at the Scottsdale Convention & Visitors Bureau. "When visitors are planning a trip or simply researching places they would like to visit in the future, we want them to feel inspired, informed and eager to experience all that Scottsdale has to offer."
Site Design
The new site is better organized and features fresh, updated content, which allows visitors to have a more in-depth experience with the destination before they arrive. Bold, captivating images showcase the beauty and surreal quality of Scottsdale's Sonoran Desert setting. The site is sophisticated and vibrant with a tone that is conversational, fun, illustrative and informative.
"We hope to appeal to all the senses and paint a picture of the Scottsdale experience," said Simons. "We want to make an emotional connection that captures the beauty and romance of our Sonoran Desert setting, the energy of the city's nightlife and arts scene, or the zest of our award-winning chefs and restaurants."
Simons continued, "We know that people are not traveling as much these days, but when they are ready to plan their next vacation or group meeting, our site will provide the travel planning amenities our visitors desire."
Destination Information
Visitors are able to more easily view the bureau's 600+ members' services and offerings, including promotions, packages and events on each member page. These pages also include a map and show other nearby businesses to help visitors get around Scottsdale more easily.
Meeting planners, tour operators and travel agents can enjoy the same features as leisure visitors, but also will find additional icons and information in each section that provide added relevancy to them, such as meeting space at a hotel or sample itineraries for groups.
Brand Campaign & Social Media Efforts
The Web site redesign complements the bureau's new brand advertising campaign, which launched in January, as well as the bureau's social media channels - such as the blog, Facebook fan page, Flickr photo stream, YouTube channel and Twitter account - where traffic is growing month-over-month.
The Scottsdale Convention & Visitors Bureau is responsible for marketing Scottsdale as a premier travel destination to national and international target audiences, including meeting planners, travel agents, tour operators, incentive planners and individual tourists.
MEDIA CONTACT:
Rachel Pearson, Director of Corporate Communications
Scottsdale Convention & Visitors Bureau
Phone: 480-429-2259, Fax: 480-421-9733
Visit us at Scottsdale Press Room
# # #