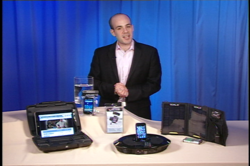 Fairfax, VA (PRWEB) June 16, 2011
Technology Expert and Industry Consultant Scott Steinberg recently spoke with NewsWatch about his must have tech gifts for Dads this Father's Day. Scott Steinberg is a renowned technology guru into all things high tech, and being a father himself it was an easy task for him to find the perfect tech gifts any dad would love to receive this Father's Day. Scott Steinberg spoke with NewsWatch through a Satellite Media Tour and shared his tech insights on the nationwide NewsWatch television show.
The four tech products Scott picked as the Top-Tech Gifts For Dads include; the Optoma Neo-i Projector, The Pelican 1075 HardBack Case, The DryCase waterproof phone case, and the Goal Zero Guide 10 rechargeable power pack.
The Optoma Neo-i allows anyone to create a home theater experience and enjoy their personal media collection in entirely new ways whether at home, work or at play. The Optoma Neo-i combines a multimedia projector from the leader in DLP Pico projection with a sound system and an iPhone/iPod dock. Whether you dock your iPod/iPhone directly into the Neo-i or connect your favorite source via the HDMI cable, you can start projecting videos or photos instantly on most surfaces around your home or office. Powered by LED technology, the Neo-i is capable of producing images of up to 120 inches. With 16 watts of digitally-tuned audio output, amazing space-filling sound is created from a compact, portable design. HDMI and VGA ports offer even more versatility by providing inputs for AppleTV™, Blu-ray™ players and computers. An optional iPad connection kit is also available. For More information, head to http://www.OptomaUSA.com
The Pelican 1075 HardBack is designed to protect smaller electronic devices such as netbooks and tablet-type computers. The 1075 is engineered with a nearly indestructible polymer shell and a shock absorbing padded interior organization system. Additionally, there will be a dedicated iPad® version that includes an integrated stand for easy viewing. Sporting a rugged c-clamp-type latch, an o-ring seal and tongue-in-groove design, the 1075 is watertight and dustproof making it perfect for extreme travel. Internal dimensions are 8" x 11" x 1.5" . MSRP for the 1075 Hardback Case will be $69.95 and for the i1075 Hardback Case with iPad Insert will be $84.95 For more information, you can visit Pelican.com/1075 or call 1-800-4PELICAN.
The DryCASE is a flexible, crystal clear waterproof bag that allows complete use of your phone or camera while keeping it dry and clean. Simply pump out all the air with the easy to use hand pump and the bag will vacuum seal around the contents and become completely waterproof. The air tight seal guarantees that the contents of the bag will stay dry even when submerged underwater. Every DryCASE comes with an extreme activity arm band for water sports, and is crystal clear so pictures can be taken through it while using the other side. Visit Drycase.com for more information.
The GoalZero Guide 10 Power pack is an ultra-Lightweight USB solar charging system that can be used anywhere when on the go. You can use it as a single unit power pack to power your device or as a power source to recharge the batteries for use in AA or AAA battery powered devices. It gives you the ability to recharge your cell phone 1-3 times per charge with the Guide 10 Power Pack. You can also charge up the Guide 10 Power Pack with the Nomad 7 Solar Panel in 1.5 hours or via USB in 6 hours.For More information, head to GoalZero.com.
Scott Steinberg is a nationally recognized Tech expert and appears regularly as a tech analyst for broadcast networks such as ABC, CBS, FOX, NBC and CNN. NewsWatch is a consumer oriented nationally broadcast television show. Scott spoke with NewsWatch through a Satellite Media Tour from studios in New York City.
###