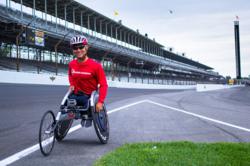 MADISON, Wis. (PRWEB) June 13, 2013
Level 5 Motorsports owner/driver Scott Tucker has always enjoyed pitching in to support causes he deems worthy.
In the case of 24-year-old paralympian Ryan Chalmers, Tucker found just the kind of person he believed is deserving of a helping hand.
Born with spina bifida, an incomplete closure of the spinal column that doesn't allow Chalmers full use of his legs, the Upstate New York native has been a picture of perseverance from a young age.
Despite his disability, Chalmers started playing sports when he was eight, eventually focusing on basketball and track. While attending the University of Illinois at Urbana-Champaign, he decided to focus on track, and in 2012 realized his dream of being a member of Team USA at the Paralympic Games in London.
"Ryan is a very inspiring guy," said Tucker. "I continue to be impressed by his tenacity and perseverance and I wanted to help bring his story to as wide of an audience as possible."
Now, with financial support from Tucker and Level 5, Chalmers is chasing another dream: to push his racing chair from Los Angeles to New York City in 71 days with the goal of building awareness for all persons with disabilities, and raising funds for Stay-Focused, a nonprofit organization that works with teens with physical disabilities.
Tucker recently met Chalmers in Kansas City, where the reigning American Le Mans Series LMP2 class champ introduced Chalmers to two of Level 5's race cars and the two men talked about Chalmers' goal of inspiring others with disabilities to pursue their goals and never give up.
Tucker and Level 5 are sponsoring Chalmers'"Push Across America," that began April 6 and is scheduled to culminate June 15 in The Big Apple.
"Scott really got what we were trying to achieve and the awareness that we're trying to build, and just understood right away that we're athletes just like everybody else," Chalmers said. "So it was really cool just to be able to chat with him and really get to know someone who understands the messages that we're trying to get out. It really uplifted me and encouraged me going forward."
Chalmers is being accompanied on the "Push Across America" by Stay-Focused founder and president Roger Muller, along with six others, including a production crew of two people documenting every aspect of the journey.
As Chalmers' team has been en route to New York City, several participants have regularly sported Level 5 hats given to Chalmers by Tucker during their meeting in Kansas City.
"It makes us feel great being able to represent them, because he's just such a great guy," Chalmers said of Tucker. "So it's an opportunity for us to be able to represent a sponsor that's phenomenal."
Over the 71 days, Chalmers is scheduled to take 14 rest days, and push about 60 miles every other day.
Overseeing the effort is Muller, who recruited Chalmers back in 2005 to join Stay-Focused, which Muller founded two years earlier.
Chalmers' involvement with Stay-Focused, where he learned to SCUBA dive and later became the organization's first mentor assisting first-time divers in all aspects of Stay-Focused programs, changed his life.
Appropriately, it was at the suggestion Muller that Chalmers decided to embark on his journey across America this year.
"Ryan has an amazing ability to push through pain," said Muller, who drives a support vehicle right behind Chalmers' racing chair (there's another vehicle in front of Chalmers at all times) as he pushes across America. "Yeah, his shoulders have hurt, his knees have hurt, his back has hurt, his feet have swelled up at times, but he just keeps going. I'm incredibly impressed with his determination and commitment but, then again, Ryan has always impressed me."
Chalmers' push has taken him to plenty of interesting places and allowed him to meet Tucker and many others whom have offered support. One of Chalmers' most memorable experiences came at the recent Indianapolis 500 weekend, when Chalmers used a couple of his rest days to visit the track and take part in many of the weekend's festivities.
On the Saturday before the Indianapolis 500, Chalmers had the opportunity to push an entire lap around the famed 2.5-mile oval in his racing chair, and then attended the next day's race.
"Every state, every day has been different, and that's one of the cool things about this journey: it's one of those opportunities that it's once in a lifetime," Chalmers said. "We've been through beautiful parts of the country. We've been through places that you can see for 10 miles, and so the entire journey has been incredible so far. But you do have those moments that stick out to you – like the Indy 500."
Chalmers, who watched the race from a suite at the start/finish line, cheered on Level 5 driver Ryan Briscoe, who finished 12th.
"I got to root on Ryan Briscoe, so it was fun," Chalmers said. "We had our Level 5 hats and we were cheering along the way, so it was fun that we had that connection with Level 5."
Tucker and Level 5 are deep in preparation for the 24 Hours of Le Mans that takes place in France June 22-23. Level 5 Motorsports will be competing on the French hallowed grounds for the third consecutive year with Scott Tucker, IndyCar star Ryan Briscoe and sports car stalwart Marino Franchitti sharing the driving responsibilities.
But those responsibilities have not stopped Tucker from his philanthropic pursuits. He also recently participated in a program with the public school system near his home in the Kansas City area. He and the Level 5 team visited Pleasant Ridge Elementary in nearby Overland Park and treated the students to an up-close look at the their HPD ARX-03b prototype. He is also sponsoring Bob Schluben, a police officer in Lenexa, Kan., who vowed to run 52 marathons in the same number of weeks in 2013 to benefit two charities: Sunflower House and the Surviving Spouse and Family Endowment Fund (S.A.F.E).
About Level 5 Motorsports
Level 5 Motorsports has fielded successful entries in GT and Prototype classes in the American Le Mans Series, GRAND-AM Rolex Sports Car Series, Ferrari Challenge Series, the Sports Car Club of America, IMSA GT3 Cup and Cooper Tires Prototype Lites since 2008. The team has competed throughout North America and Europe, extensively in Italy, France and Spain. Team owner and driver Scott Tucker has earned nine national championships and has more than 110 podium finishes and 90 victories in his driving career. The team competes in 2013 with sponsorship from Siemens, Alpina Watches, Honda Performance Development, Ohiya Casino Resort, Prairie Casino, Kennol, Selling Source, West Race Cars, Motorsport.com, Battery Tender and AlgOil. Level 5 is based in Madison, Wisconsin.
http://www.Level5Motorsports.com.
http://www.tucker-racing.com