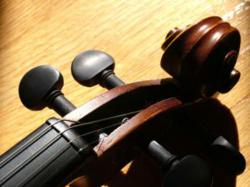 Kansas City, MO (PRWEB) December 03, 2012
For its 48th season the Choral Arts Society moved in new directions with six concert programs at the Kennedy Center and other DC venues. According to the music lovers blog, the technical demands placed on all the performing forces mean Missa Solemnis is less frequently performed than other major works by Beethoven. Tucker and his Choral Arts Chorus joined a stellar cast of soloists and the National Symphony Orchestra, under the baton of Music Director Christoph Eschenbach, on November 1st and 3rd for these concerts.
Honing in specifically on the dynamic approach to the challenging piece of music by Beethoven the music lovers blog stated:
"The internal struggle within the piece's composer is enigmatic, but poignant, ranging from the high energy second movement- 'The Gloria,' showcasing some solid orchestra wide cohesiveness under Tucker's direction, to the lamentable lows and bellows of the more emotional Credo."
Scott Tucker, conductor Christoph Eschenbach, soprano Anne Schwanewilms, mezzo-soprano Iris Vermillion, tenor Richard Croft, and bass Kwangchul Youn went above and beyond to present a unique vision that according to the music lovers blog article was described as "intense."
The music lovers blog article went on to heap praise on Scott Tucker's work and expressed particular surprise at how the venue itself was utilized for acoustic effect, stating that the ensemble made sacrifices acoustically to create an atmosphere that mimicked the reverb of a church and still sounded theater ready. The orchestral performance was equally spot on, Christoph Eschenbach led some jarring transitions and exaggerated tempo changes, particularly in the opening Kyrie, but by now, Kennedy Center audiences are used to the maestro's seemingly impulsive, though heartfelt, conducting style. If the opinion of the audience after the show are any indication of the future, the Choral Arts Chorus and Scott Tucker are a marriage that music patrons will be enjoying for many more years.
Scott Tucker succeeded Norman Scribner as the director of the Choral Arts Chorus after a 12 year career as the Cornell University director of choral music. In his position at Cornell, Scott Tucker directed the Cornell University Glee Club and the Cornell University Chorus. Tucker's talents as a musician are paired with administrative skill that helped him expand the choral organization at Cornell, and will surely be a benefit in his new position as director of the Choral Arts Chorus. His election to the position was a surprise to many, but Tucker is expected to contribute greatly to the chorus, and, so far, the concerts of the 2012-2013 support this expectation.
As an independent music news, reviews and opinion website, Music Lovers Blog aims to help people further their appreciation of music. Music Lovers Blog doesn't allow labels and genres to stand in the way of music. If you are looking for an independent objective take on music you can find more information at http://www.musicloversblog.com