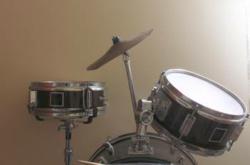 Kansas City, MO (PRWEB) December 05, 2012
The music news and reviews blogsite, MusicLoversBlog.com recently featured a gig preview for the Kansas City based country rock band 'Adam Dean & Chrome' and heaped some pretty lofty praise onto drummer and vocalist Scott Tucker. In the preview of the band's upcoming holiday gig at Joe's Standard, Blue Springs, MO. the music blog noted that 'this adaptable country blues rock band should not be missed, if only to witness the talents of Scott Tucker, the singing drummer who is the backbone of a rocking band'.
According to the gig preview article from the music blogsite, the band; comprising of Scott Tucker on vocals and drums, Adam Dean on guitar and vocals, Tom Dean on guitar and bass, along with Emmy Award winning keyboard player Denny Osburn, have gained a loyal following of fans throughout the mid west since forming back in 2002.
The article on the music blog site went on to add that 'Adam Dean & Chrome' effortlessly combine elements of pop, rock, country and blues into their shows, meaning they rarely leave fans disappointed at their gigs. You can find out more about 'Adam Dean & Chrome' and their schedule by visiting their Myspace page or their booking site.
'Adam Dean & Chrome' play Joe's Standard Bar, Blue Springs, MO. on Friday December 28th, 2012.
About Music Lovers Blog
As an independent music news, reviews and opinion website, Music Lovers Blog aims to help people further their appreciation of music. Music Lovers Blog doesn't allow labels and genres to stand in the way of music. If you are looking for an independent objective take on music you can find more information at http://musicloversblog.com