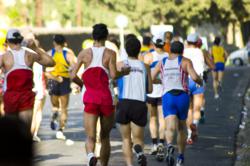 Kansas City, MO (PRWEB) December 04, 2012
Anyone who has ever taken part in any kind of fitness activity will be aware that some pumping loud rock music can be a great help when motivation levels dip dangerously low. Fitness fans have for decades been aware that working out and uplifting motivational music make a perfect match. The health and fitness website fitnesslifestories.com recently featured a story on their website highlighting how great the Rock N' Roll Marathon Series is due to the bands playing live music along the route of the marathon.
Now, thanks to some feedback from its readers, the fitness website plans to unfurl some new sections onto the site, adding news, reviews, stories and links to motivational music that go hand in hand with working out. "The Rock N' Roll Marathon Series is unique in that it gives both the runners and spectators a welcome boost, after the website ran the feature about Long Duk Dong's appearance the feedback was all about the site featuring more music, so that's what is going to happen," said Jackie Brackenbury, founder of fitnesslifestories.com.
The health and fitness website currently has sections on 'outdoor recreation', health, and 'women's weight loss', and according to Jackie Brackenberry the editors of the site are currently working on new sections to include motivational music and top 10 lists. You can learn more about the Rock N' Roll Marathon Series by visting http://runrocknroll.competitor.com/.
Active and sporty people who are focused on living a healthy and balanced lifestyle can always find engaging and topical fitness stories on http://Fitnesslifestories.com. Fitness Life Stories provides a forum that allows people to share and discuss the latest concepts and ideas on everything related to improving their fitness levels and healthy living.