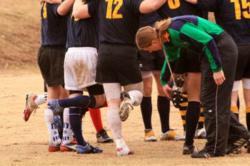 Kansas City, MO. (PRWEB) December 05, 2012
The sports website InspirationalSportsStories.com, has for the first year of its existence focused on a wide range of sports stories with one common thread - the stories all highlight inspirational achievements on the sports field. Now, after featuring a story about Scott Tucker, the inspirational head coach of the Gaffney, SC. based Limestone College's women's lacrosse team, the website has decided to increase its coverage of National Collegiate Athletic Association (NCAA) news in order to satisfy reader demands.
"Since the website started up a little over a year ago its primary focus was inspiration, so if a sports story was deemed inspirational by the editors it would be featured on the site. After all the feedback the site received regarding the NCAA lacrosse team down in South Carolina the editors have decided to increase the site's coverage of all NCAA sports action." said Tony Pope, founder of InspirationalSportsStories.com.
According to Pope, the demand for increased NCAA coverage came as something of a surprise to the sports website considering how well publicized it already is, however Pope stressed that InspirationalSportsStories.com see increasing their NCAA coverage as a step in the right direction. The site currently features content sections on 'Sports', 'NFL Football' and 'Sports Stories', new features, news stories, and reviews with a NCAA angle will soon be added to those sections.
People who are making their mark in the world of sports should be celebrated. http://InspirationalSportsStories.com is dedicated to featuring the stories of athletes from all over the world that are an inspiration to anyone who enjoys participating or watching sports. From the youngsters at grassroots level, through high schools, college and up to the very top of the professional game Inspirational Sports Stories has it covered.