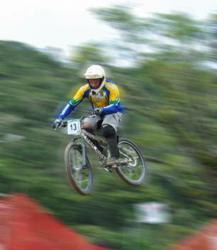 Kansas City, MO. (PRWEB) December 06, 2012
Mountain bike lovers from far and wide will be a lot happier this winter after Scott Tucker, organizer of the NorthWest Cup Mountain Bike Championships, announced that planning for the 2013 event is already in the design stage. The sports website, InspirationalSportsStories.com today announced that the 2013 NW Cup looks set to expand to create another round and possibly a warm up race.
According to the sports site article 2013 marks the 6th year of the NW Cup and it's expected to be bigger and better than ever before. The article states that 'Tucker's dream of hosting the biggest and best ever NW Cup is truly commendable', and hailed Tucker's quality planning experience management on account of the great work he and co-organizer Casey Northern have carried out over the past few years.
The InspirationalSportsStories piece went on to add that success of the 2012 NW Cup can be attributed to Tucker's ability to unite mountain bike lovers, both riders and audiences, on a national basis by creating a project worth attending. The NorthWest Cup Mountain Bike Championships are presented by Diamondback Bicycles and you can learn more about the Championships by visiting http://nwcup.com/.
People who are making their mark in the world of sports should be celebrated. InspirationalSportsStories.com is dedicated to featuring the stories of athletes from all over the world that are an inspiration to anyone who enjoys participating or watching sports. From the youngsters at grassroots level, through high schools, college and up to the very top of the professional game Inspirational Sports Stories has it covered.