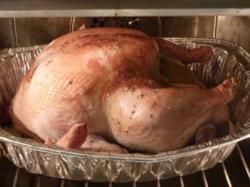 Kansas City, MO (PRWEB) December 04, 2012
According to the home and recreation website article, Lieutenant Governor Becky Skillman met with Maple Leaf Farms executives Scott Tucker and Dan Harper, as well as Indiana State Poultry Association Executive President Paul Brennan, to receive the ISPA's 2012 holiday donation on behalf of the state of Indiana. The 200,000 pound donation will be distributed to food banks throughout the Hoosier state. While every donation by the ISPA has exceeded the previous year's contribution since 1947, this year's effort to help feed hungry families during Thanksgiving and Christmas is especially generous.
The article went on to add that the generous donation comes at a crucial time. During the holiday season food banks often report that many of their clients are forced to choose between buying food and spending money on other vital needs. By supplying poultry products to Indiana residents during the holidays, the ISPA helps to reduce the pressure on families already stressed challenging financial situations. Each week, food banks associated with Feeding America and Feeding Indiana's Hungry Inc. provide food to 115,000 Indiana residents. Recipients of aid cover a wide range of demographics, but a large portion of the food goes to elderly Hoosiers and children. As expected, much of the food distributed by pantries finds its way into the homes of Hoosiers living below the poverty line, but a growing number of middle-class households are turning to food pantries for help. Participants in food bank programs are often struggling with unpaid medical bills and other difficult expenses.
The Indiana State Poultry Association's sizeable donation is an indication of the importance of poultry to the Indiana economy. Chicken production alone accounts for $45 billion in retail revenue in the United States. Production of eggs produces over $6 billion in value. Indiana is the second leading producer of eggs in the United States, and sixth largest producer of turkeys. Paul Brennan of the ISPA wants to see Indiana break into the top five in turkey production, and Scott Tucker is committed to doing his part in helping the state reach that goal.
The HomeAndRecreation story further detailed that during the recent presentation with Scott Tucker and Dan Harper, Becky Skillman was also given a decorated egg as a symbol of the donation. The egg is traditionally decorated with the Indiana state seal by a Hoosier artist, but for 2012 the ISPA decided to have the egg personalized for Skillman, in recognition of her long-standing support of agriculture in the Hoosier State.
If you're interested in recreational activities HomeAndRecreation.org is a blog forum that offers a platform for like minded people to share and discuss ideas, tips, news, and reviews on the important things that can help turn a house into a home. The site is the ideal destination for people who want to discover how small things can make big differences. Whether it's remodeling, interior design, art, gardening, outdoor recreation or indoor fun you'll find it all plus even more by visiting Homeandrecreation.org