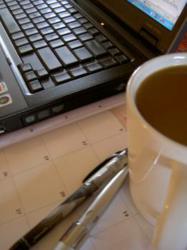 Kansas City, MO. (PRWEB) December 05, 2012
'Ministry Mondays' is an online radio show that offers candid conversations on family values, relationships and life lessons. Co-hosts Scott Tucker and Brian Hackney present the show which airs on NBBRadio.com at 10.30am and 10.30pm on Mondays. According to a recent article from the family themed website the show's continuing success hinges on the rapport that Scott Tucker and Brian Hackney have while on air. It is apparent that both Tucker and Hackney share a passion for helping their listeners find freedom and achieve their goals in life.
The Family Fun Night article went onto add that life coach, author, and speaker Scott Tucker first met co-host Brian Hackney when they both served at a local men's ministry in East Texas. Tucker then interviewed Hackney on one of the very first broadcasts of 'Ministry Mondays', and since then the pair have developed a platform for helping others via the radio show. Brian Hackney's role specializing in assisting people with family and relationship issues perfectly complements Scott Tuckers role as a life coach, helping people embrace and confront challenges that can make things stressful and complicated.
You can find out more about Scott Tucker by visiting his website, kingdommindedsuccess.me, and you can listen to 'Ministry Monday's by visiting NBBRadio.com.
Ourfamilyfunnight.com is a family themed blog forum that is packed full of news, reviews, ideas, recipes, trivia and fun for the whole family. If you are looking for new and exciting ideas for ways to enjoy spending time with your family and pets visit http://ourfamilyfunnight.com. You'll find a whole host of innovative and fresh ideas and opinions on how to make the most of spending time with your loved ones.