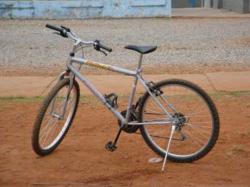 Leawood, KS. (PRWEB) December 09, 2012
On Sunday March 3, 2013, just as spring arrives in the idyllic rural countryside of central Arkansas, ten teams of five bicyclists will be faced with the task of riding completely unsupported from Scott, AR. to Tucker, AR. and back to Scott, AR. again without the help of any navigational devices. According to a recent story on the fitness website the Tucker-Scott-Tucker Spring Classic is 'set to be a true time trial test of endurance over a course of varying surfaces'.
The article further added that 'gentlemen's race' is open to cyclists of both sexes and the 'gentlemen's' aspect refers solely the fact that the participants will be expected to adhere to all local and state road traffic laws. The fitness website went on to praise the organizers for managing to combine fun with an element of competitiveness, noting that the plan for 'using a handicapping system for timing each participating team according to when their last rider crosses the finish line' was a fine idea.
The article on the Fitness Life Stories site also added that 100% of the entry fee would be going to the prize purse. For more information about the race visit https://www.facebook.com/pages/Spring-Classic-Scott-Tucker-Scott/289891584465902
Active and sporty people who are focused on living a healthy and balanced lifestyle can always find engaging and topical fitness stories on Fitnesslifestories.com. Fitness Life Stories provides a forum that allows people to share and discuss the latest concepts and ideas on everything related to improving their fitness levels and healthy living.