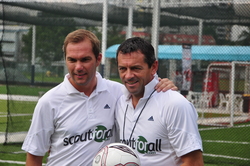 ScoutForAll.com gives talented youngsters a chance to make it into the big football leagues! Phil Brown (EPL manager and ambassador of ScoutForAll.com)
Orlando, FL (PRWEB) March 11, 2011
ScoutForAll will, in due course, change the face of global soccer.
While this may sound like a bold claim, ScoutForAll via scoutforall.com, aims to level the playing field as far as clubs are concerned when it comes to recruiting new talent.
Soccer clubs around the world spend an enormous amount of money paying scouts to look out for new talent, and the disparity between the rich and the poor grows ever wider.
ScoutForAll hopes to change all that, via its internet portal, which gives everyone equal access to the best young players on the planet.
Clubs all over the world (plus their representatives, scouts and independent agents) will be able to watch and monitor the progress of young players wherever they may be – without having to jump on a plane, or attend a game.
At scoutforall.com, videos of players in action will be accessible to individuals entrusted with the task of unearthing the next soccer superstar, and through its patented method of continuous assessment, those individuals will be able to accurately chart the development of players.
Players upload footage of themselves carrying out prescribed exercises, and are free to add additional footage of them in competitive action. Scouts around the world will be able to assess their potential, and earmark the talented individuals to monitor in the future.
While ScoutForAll is the perfect starting point for those who have decided to pursue a career in professional soccer, it will also provide an excellent networking tool for those who don't take football quite so seriously, but who still want to improve at the game, and play at a level that suits them best.
ScoutForAll is all set to revolutionize soccer around the world and build the ultimate online community of lovers of the game and those who make their living from it.
Want to be part of it, sign up at http://www.scoutforall.com/usapro
###