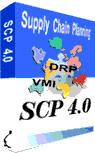 We are able to quickly achieve our VMI goals and implement SCM with key clients with very different requirements.
- Ernie Kale, Supply Chain Management
Fortune 500 supplier to the world's leading consumer product companies
West Linn, OR (PRWEB) January 30, 2012
Jada Management Systems (JMS) wants to see companies understand and be able to take advantage of electronically sharing information between members of their supply chain.
Vendor Managed Inventory (VMI) leads to shorter lead times and reduced inventory in the supply chain, but the concept and details of it can be cryptic to anyone not already utilizing it.
JMS now offers a clear overview, helpfully put into plain English, believing that even small businesses can truly benefit from their easy to use and affordable software. Read it at http://www.jadaman.com/scp_files/jms_vmi_guide.pdf.
Discovering how JMS has helped many businesses thrive, that their SCP 4.0 software can be implemented in days with full support, and has a typical ROI of only 6-12 months, could be the turning point to success.
ABOUT JADA MANAGEMENT SYSTEMS
Jada Management Systems LLC (JMS) is the maker of SCP 4.0, an affordable, quick to install, and easy to use planning, forecasting, and Vendor Managed Inventory (VMI) software with a proven fast return on investment. Jada Management helps companies reduce inventory levels resulting in lower inventory costs and significant increases in customer service. The built-in data mapping function allows SCP to be implemented in 2 weeks giving SCP customers a full featured, automated forecasting, demand planning, and VMI toolkit that provides detailed visibility into their supply chain. Based in Portland, OR, Jada Management can be found at http://www.jadaman.com, and offers a free custom demo and data analysis available at http://www.jadaman.com/JMS_DemoOffer.htm.
###