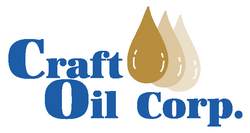 Air1® DEF is a natural fit for Craft Oil's product distribution. Our customers expect Craft Oil to partner with the largest provider to ensure supply and quality
Avoca, PA (Vocus) April 16, 2010
Prominent Pennsylvania lubricants company Craft Oil is equipped to supply sixty-eight counties in Delaware, Maryland, New Jersey, New York and Pennsylvania with Air1®, the world's leading diesel exhaust fluid (DEF). Craft Oil will provide the education, equipment programs and DEF supply options – ranging from bottles to bulk – that their customers' Selective Catalytic Reduction (SCR) vehicles will need to meet the Environmental Protection Agency's standards to reduce Nox emissions.
"We are very pleased to have Craft Oil join our DeliveryONE distribution team. They are a premier lubricants marketer in an area that we foresee a high demand for DEF. Craft Oil has great leadership and an aggressive sales force that will only promote success," said Brian Astroth, Regional Sales Manager-DeliveryONE, Mansfield Oil Company.
Mansfield, Yara and Craft Oil conducted two training sessions in Philadelphia and Scranton, PA, for 30 sales and support representatives who are now certified as Air1® specialists under the DeliveryONE program. Mansfield's DeliveryONE network is the nationwide distribution system for Yara's Air1® brand of DEF in the U.S. "Air1® DEF is a natural fit for Craft Oil's product distribution. Our customers expect Craft Oil to partner with the largest provider to ensure supply and quality," added Bob Mills, President, Craft Oil.
"Craft Oil has built an outstanding reputation for providing superior service, dedication and quality products in the Northeast and is committed to maintaining Yara's Air1® DEF quality guarantee. A key factor in our selection of Craft Oil is their ability to exceed strict handling requirements from Yara's certified product source points to their facilities and customers," states Ed Wells, Regional Sales Manager, Yara.
About Mansfield Oil Company
Ranked as one of the Top 100 privately held companies in America by Forbes and a multiple finalist in the 2009 Platts Global Energy Awards, Mansfield Oil defines the next generation of downstream oil company, delivering a disciplined approach to fuel services nationwide from over 900 supply terminals. Founded in 1957, the company has achieved double-digit growth for three decades. Mansfield Oil focuses on optimizing and controlling fuel-related costs for their customers with local service, nationwide. For more information, visit http://www.mansfieldoil.com.
About Craft Oil
Craft Oil Corporation is proud of its 85 year heritage and its expertise in the motor oil business. Offering only quality products with exceptional service, Craft Oil is an authorized bulk and package lubricant distributor for ExxonMobil, Shell Oil, Pennzoil, Quaker State and Service Pro. In addition, they offer many specialty products and lubrication equipment. For more information, visit http://www.craftoilcorp.com.
###