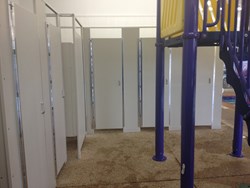 We explored numerous products and found HDPE partitions from Scranton Products to be the best of all options. They look great and clean easily, said Tom Vergos of A+A GCI contracting.
Allen, TX (PRWEB) January 28, 2014
Emler Swim School, with a new location in Allen, Texas, featuring dozens of enhanced safety and comfort features, has selected Scranton Products restroom partitions and changing rooms near the facility's 40 X 40 square ft. saltwater pool.
Tom Vergos, vice president of A+A GCI, a full service general contracting company in Dallas, recently took on took on the construction of the Allen complex from the ground up and knows the challenges of an enclosed saltwater pool.
"The specification process is extremely meticulous," said Vergos. "Everything must be easy to clean and sterilize, while being aesthetically appealing. All of the materials must resist the corrosive saltwater with long-standing, durable results."
Vergos recommended Hiny Hiders Partitions in Sand Castle color from Scranton Products for use in all of the restrooms in the Allen facility as well as the individual changing rooms adjacent to the pool. With an assortment of HDPE products in variety of colors and textures, the company's partitions never need painting. Unlike metal partitions which are subject to rust, they offer superior resistance to dents, scratches, graffiti, corrosion, mildew and moisture. Another benefit is that they are very easy to clean and naturally resistant to bacteria.
"We're always concerned about which materials will hold up to the saltwater," explains Vergos. "Stainless steel has even rusted in the past. So, we explored numerous products and found HDPE partitions from Scranton Products to be the best of all the possible options. Plus, they look great and clean so easily."
The saltwater pool is heated to 90 degrees F year-round and purified around the clock by high-end UV water purification systems. Other amenities include floor to ceiling windows that provide parents and instructors with a clear view of the children at all times and cutting-edge air filtration systems that create a safe environment for everyone.
"The safety and welfare of our students is our first priority," says Melinda Morris, the customer service manager at Emler's Allen school. "The entire environment is designed to help every swimmer gain confidence and achieve their goals in an atmosphere that promotes learning and makes everyone involved look forward to the visit."
Providing great looks and comfort for their students, Morris is happy with the choice of the partitions. "After years of trial and error, we finally found a product that fits all our criteria. It looks nice and has held up incredibly well."
About Emler Swim School
For the past fifty years, Emler Swim School has dedicated itself to making students feel warm and comforted in state-of-the art facilities that promote safety, fun and learning. With eight locations, the Dallas-based swim school teaches the life-saving skills needed to stay safe in the water to approximately 20,000 children and adults annually.
About Scranton Products
For more than 25 years our premium brands have led the plastic partitions market setting new benchmarks for the industry in quality and delivery. Our well-known brands, including Hiny Hiders®, Resistall™ and Tufftec®, feature the most durable, low maintenance and best looking partitions, lockers and industrial sheet products in the industry. They won't dent, rust or need painting, and because they have color throughout, delamination is not a factor. For more information, visit http://www.scrantonproducts.com.