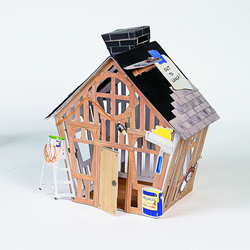 Ali'iaki's Tiki Hut and Surf Rental
Omaha, Neb. (PRWEB) August 5, 2008
Oriental Trading Company Inc., the nation's leading direct marketer of value-priced novelties, toys, and party supplies and quality supplier of fun and easy, value-priced scrapbooking products, is pleased to announce the winner of its Best On The Block Scrapbooking Contest.
The contest asked participants to scrap Oriental Trading 3-D chipboard houses using the company's vast array of scrapbooking papers, embellishments and tools. Entries were judged on best use of product, uniqueness, creativity and execution. The grand prize winner was awarded a creative desk suite and Oriental Trading scrapbooking supplies worth over $400. All entrants received merchandise certificates in recognition of their idea submissions.
Grand prize winner, Ms. S. Vogt of Lexington, KY, submitted the winning entry with her "House Under Construction" rendition of a home during the framing stage. When asked what inspired her creativity Vogt said, "I spent all last summer and fall doing heavy renovations
on my house so I had it on my mind." Vogt also stated that she loves the challenge of using her imagination to create things in an unusual way.
Runners up included "Ali'iaki's Tiki Hut and Surf Rental," "Hays Farming," and "Home Tweet Home." These projects can be viewed on http://www.orientaltrading.com.
A two time winner of the Creating Keepsakes readers choice award, Oriental Trading's Scrapbooking line provides a fun mix of bundled and value-priced products along with free scrapbooking project ideas and weekly blog posts. Customers will find paper crafts, kits and stacks, embellishments, portable/home storage and tools along with the latest tips and techniques.
About Oriental Trading Company
Oriental Trading Company, Inc. is the nation's the largest direct marketer of party supplies, toys, novelties, and children's arts and crafts, and a leading direct marketer of school supplies
and value-priced home décor and gift-ware. Recognized as one of the Top 50 Internet Retailers and one of the Top 50 Catalog Companies, Oriental Trading Company employs approximately 3,000 employees and offers more than 40,000 products to businesses, not-for-profit organizations, individuals, schools, churches and teachers. From pink flamingos, yo-yos and grass skirts to holiday decorations, scrapbooking, and crafts, Oriental Trading Company makes the world more fun! http://www.orientaltrading.com
###