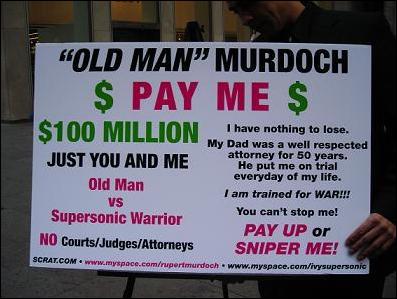 Rupert Murdoch has been benefiting from the publicity services I've launched to draw attention to my issue
New York, NY (PRWEB) December 5, 2006
A multi-year legal battle over the trademark and copyright ownership of the squirrel/rat character incorporated into the Ice Age movies (Case # 04401: Silberstein vs. Fox Entertainment, Court of Appeals, Second Circuit, NYC) took its most recent turn when the follow-up DVD, Ice Age 2, was dropped on November 26th.
Since undertaking her campaign to extract the share of the profits Ivy Supersonic claims she's owed, she has launched a full-fledged publicity campaign that included tattooing her body, making the media circuit and staging personal protests outside the News Corporation building on November 15th, 2006.
Supersonic has also protested at the 824 5th Avenue home of Fox multi-billion dollar conglomerate owner Rupert Murdoch. This week's New York area Auto Trader cover shares space with Supersonic's infamous Hummer - which during its short life in Supersonic's possession transported her to the Murdoch facilities while plastered with Supersonic's "Murdoch, Pay Up" billboards. Details and photos are available on the right.
"Rupert Murdoch has been benefiting from the publicity services I've launched to draw attention to my issue," Supersonic said. "Since my retainer runs at $10,000 a month, he's racked up a $120,000 bill over the course of the last year."
November 15, 2006 Protest at Murdoch's News Corp Building on Avenue of The Americas; Click here.
Protest at Murdoch's 834 5th Ave. Apartment in NYC. Click here.
Videos at YouTube: Protest at News Corp and Murdoch's 834 5th Ave Apartment in NYC. Click here.
CONTACT:
Ivy Supersonic
Supersonic Media
PHONE 212-3329
http://www.myspace.com/ivysupersonic
###