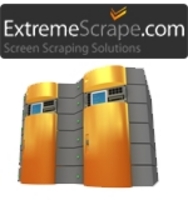 Before launching the site our team developed a unique process to delivery quality web scraping software much faster and cheaper then most companies
New Prague, MN (PRWEB) March 11, 2011
With the launch of ExtremeScrape.com, Extreme Design offers more web scraping software services and solutions then most providers with much lower costs. The sites founder, Jeremy Krocak noted "before launching the site our team developed a unique process to delivery quality web scraping software much faster and cheaper then most companies. We've also developed a set of standards which, combined with our speed, allows our team to delivery products equal to large companies and still remain in the price range that small business contractors typically offer."
Web Scraping Solutions
The goal of ExtremeScrape.com is to provide a standard set of project types and still remain flexible to accommodate any request. Some example project types include:
Standard Project - the screen-scraper software is created and data is collected.
First Project - the screen-scraper software is created, delivered and includes assistance to developers for future reference.
Training - get started with a little assistance from an experienced web scraping developer.
Data Management - when you need a service to find and manage web data.
OneSearch site review and data management service
In addition to the many combinations of project plans the site also includes a unique search called OneSearch. The process is ideal for managers, team leads and small business owners who don't have the time or resources to take on a search for quality data. With just a keyword or short description the site can delivery a list of candidate sites to read information from.
Training Material
One goal for the site is to bring quality information to the end users. If you're a developer looking for additional information, a team lead trying to understand the process or any combination of user, ExtremeScrape.com provides a quality learning experience. To date the site has over 1,000 topics with plans to offer video's related to development and usage.
Experience is the key when Screen Scraping
Extreme Design has been creating screen scraping software for over 10 years and with a recent grow decided to extend to a site dedicated to this business segment. In it's short existence the screen scraping site has already landed a verity of projects including medical, government, real estate, sports, consumer products and many other types. Krocak pointed out that; "because our costs are so low, many of our customers are mid-level managers and department leads. In many cases they select our services simply because they can expense the cost. That can be the difference between going ahead with a project or not. If they had to get approval from a team or upper management the project might not happen."
Planning and Pricing
Each project includes a complete plan that outlines the process which is delivered in an impressive web page report. For the developer the final process also includes the development plan along with source code. Other items such as setup, how-to and getting started features are also covered in help topics blog.
Instead of provide a custom price for each project the site currently offers 3 price levels:
Mini Scrape - for screen scraping small sites with a small amount of data.
Standard Scrape - for most sites with standard navigation and a medium number of records.
Advanced Scrape - if the process involves a large number of records or speed is the key and advanced coding is required.
For each level the price is fixed so customers can measure project costs and budget without worrying about any extra fees.
Getting Started
To get started with a free web scraping project plan visit http://www.ExtremeScrape.com/Plan
For an even lower costs on your next project enter or mention discount code MKT-201102
# # #