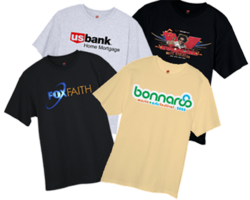 Mainstreaming and simplifying were the main objectives.
Tullahoma, TN (PRWEB) April 13, 2013
About TshirtSpot.com®: This site is owned by BDB Apparel Inc. a screen printer located Tullahoma TN with a facility of 9,500 sq ft can handle any size order. They specialize in custom design artwork, apparel printing in spot color, simulated process, and process. They are well known for the quality and colorful designs screen printed on t-shirts of all colors.
In 2003 when Brenda Ginnett, marketing and sales, came on board, and shortly thereafter in 2005 when Brooke Roberts joined the team, TShirtSpot began to double sales year over year, which in 2007 reached $1.7 million in sales with total of 14 people. This was a long way from its inception in 2000 with founder Dieter Ginnett and one part time employee.
As with all entrepreneurs' dreams of success comes some strife. At the mark of the 4th quarter of 2007, a storm began brewing, which later in 2008 every American began to experience. The credit crunch, the economy collapse, and the growing unemployment rate were all factors within this storm. Not knowing what the future had to hold upon hearing clients, vendors and brokers of our products throughout the US having to close their doors after 20-30 years in business, and families loosing everything, was a quick reminder of the tough times of 2002 for owner Dieter Ginnett, having previously been a partner in an ISP business and watching the "dot com" bubble bursting, and seeing many ISP businesses failing. This time, however the storm was much bigger and the environment of doing business was changing fast. Budgets were cut, employees laid off and TShirtSpot had to rethink the way they were doing business.
"TshirtSpot had to change and change fast," said Mr.Ginnett "Mainstreaming and simplifying were the main objectives. TshirtSpot designed a job managing application to eliminate a lot of paper work and improve our communication between departments, revamped and recompiled customer databases, automated the production of film positives needed to produce screens, and automated and organized the printing process."
In 2012 with a much smaller and tight knit crew Tshirtspot.com launched an overhauled website to incorporate a new online t-shirt design tool. It's easy and anyone can use it to create their own custom t-shirts or upload their design.
Moving into 2013, TshirtSpot's customers can enjoy doing their own work and uploading directly to the site, or can easily design flawless artwork for their apparel online. There is a large selection of clip art and text fonts to use or they can upload their own designs. The site also includes design templates giving you a design to modify saving you a lot of time. The ordering process has also been streamlined and customers can now automatically place new and reorders easily online. Automation may be a big benefit but each order is still processed and reviewed prior to printing and shipping.
TshirtSpot.com has come a long way but their principles have never changed - quality printed t-shirts, great customer service and a quick turn-around. Since the beginning their slogan has rang true: "Your local screen printer on the web."
They have done work for FoxFaith, Bonnaroo, Home Depot, Verizon, Cyndi Lauper, Continental Airlines, and many others. If you have not tried them you're missing out on price point and amazing product. Check them out at http://www.tshirtspot.com
Site is http://www.tshirtspot.com
Facebook: http://www.facebook.com/tshirtspot with over 1,300 likes
Twitter: https://twitter.com/mytshirtspot with over 7,500 followers.