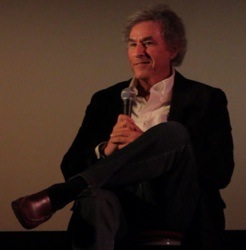 " 'A Labor of Love' is a lost verite masterpiece … a movie-about-movies documentary classic." ~ Hadrian Belove, The Cinefamily (2011)
Beverly Hills, CA (PRWEB) April 02, 2012
Screenplay consultant Robert Flaxman, founder of Deep Feed-Back, announced today that he will speak at the Wisconsin Film Festival following a screening of his 70-minute documentary, "A Labor of Love," on Sunday, April 22 at 4:15 PM. The audience will be invited to participate in the Q&A session.
"A Labor of Love" follows a young director and his equally young cast and crew as they attempt to produce their first feature length motion picture. Two weeks before principle photography commenced on their film, their backers insisted that several sex scenes be included to ensure the commerciality of their product.
A predecessor to future reality television shows, "A Labor of Love" examines not only the cinematic process but also exposes the interpersonal relationships of the cast and crew as they confront uncomfortable, yet often humorous situations.
Want a preview? Check out the trailer for "A Labor of Love."
When it opened in theaters in 1976, "A Labor of Love" received excellent reviews from the "Chicago Sun-Times" (Roger Ebert), "Chicago Tribune" (Gene Siskel), the "Los Angeles Times," and "Variety."
"'A Labor of Love' is a lost verite masterpiece … a movie-about-movies documentary classic." ~ Hadrian Belove, The Cinefamily (2011)
About the Wisconsin Film Festival
The University of Wisconsin–Madison's Arts Institute and Department of Communication Arts presents the Wisconsin Film Festival each year. Founded in 1999, the Festival presents 150 films in eight theaters over five days in April.
For tickets and more information about the "A Labor of Love" screening, click here.
About Deep Feed-Back
Deep Feed-Back is the only totally interactive, line-by-line, page-by-page screenplay consulting service. Although the process may last eight hours or more, the individual sessions are broken up into 2 – 4 hour periods and are geared to fit your schedule. No cold notes to interpret. Immediately improve your script!
About Robert Flaxman
Robert Flaxman is "quite simply the Rolls Royce of screenplay analysts," declared Creative Screenwriting in its "Analyzing the Script Analysts" review (Vol. 6 No. 5). Flaxman rated number one. His totally interactive method sets a new standard for thoroughness and specifically prepares screenplays for studios, investors, producers, and competitions. For more information on screenplay consultant Robert Flaxman, visit http://www.deepfeedback.com or call (310) 278-9578.