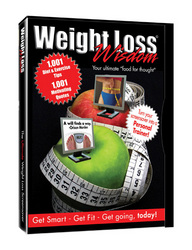 Science has proven that repetition works and repeated use of Smoke Free Wisdom will immerse your mind in positive messages to help your subconscious turn your smoke-free goal into a reality
Weston, FL (PRWEB) January 10, 2008
Robert J. Reina, founder and president of Instant Wisdom Productions Inc., has announced the debut of a suite of software products aimed to stimulate consumers to lead healthier, more balanced lifestyles. The unique and comprehensive collection of inspirational messages is packaged into three separate themed formats, and can be purchased individually or as a suite of CDs or DVDs. Screensaver Wisdom, Weight Loss Wisdom and Smoke Free Wisdom are available directly through the manufacturer at http://www.ScreensaverWisdom.com.
In development for the past several years, this trio of revolutionary screensavers combines useful information with motivational quotations to empower users to improve their lives, whether it's to start a fitness regimen, stop smoking, or simply expand their knowledge.
"My love of quotes evolved over the years as I searched for ways to help myself and improve my quality of life," said Reina, a South Florida entrepreneur. "I saw a need for a convenient way to access these positive messages on a daily basis and decided to turn my computer monitor into a useful tool. I created Screensaver Wisdom as a simple means to share with others the relevant wisdom that I knew could positively impact their lives as it had mine."
Screensaver Wisdom displays 1,001 quotations, in random order, and keeps track of which quotations have already been shown. Computer screens are transformed into a daily source of knowledge by an entertaining collection of quotes filled with wit, wisdom, and proverbs from the greatest minds of the world, both past and present.
Weight Loss Wisdom is an entertaining and educational screensaver displaying over 1,001 useful tips compiled from leading and respected sources on diet, nutrition, and exercise combined with motivational quotes and funny observations. Weight Loss Wisdom also contains hundreds of fashion tips to help both men and women improve their appearance. Users will learn fashion strategies that will minimize their less flattering features and maximize their most flattering ones.
"For help losing weight, many people purchase diet books or CDs," explained Reina. "While those tools may offer a wealth of information, retaining that information is difficult and they often do not provide motivation. Weight Loss Wisdom was developed as a simple and effective way of delivering useful diet and fitness information to help people achieve the measurable results they want. It is an innovative approach to health and fitness created for today's busy lifestyle."
Completing the trio of products is Smoke Free Wisdom. This screensaver turns the computer into a 24/7 support team as viewers learn the strategies they need to become smoke free permanently. There are more than 1,400 useful tips on quitting smoking combined with motivational & inspirational quotes.
"Science has proven that repetition works and repeated use of Smoke Free Wisdom will immerse your mind in positive messages to help your subconscious turn your smoke-free goal into a reality," said Michele Clawson, director of marketing and sales.
All three software programs are compatible with all Microsoft Windows operating systems. Some of the software's unique features include: Photo View, which enables users to display their own photos or graphics and control both the interval at which they are shown and how long they remain on the screen before the next quote is displayed; Personalized Wallpaper, where users can capture the current display and automatically set it as their desktop wallpaper; and Wisdom Control, which allows users to control almost every aspect of its presentation.
The popularity of screensavers is substantiated by the fact that almost two million people every month search for "screen saver" online and more than 80% of Windows PC's are running screensavers at present. Reina maintains, however, that individual consumers are not the only demographic. "There is a tremendous market for businesses and schools here because they can use the software as a fun source of education and motivation capable of improving the health and well being of students and employees, as well as a cost-saving tool," he said.
The principals of Instant Wisdom believe that the formula for success with these products comes from a combination of factors including saturation, frequency, cost-effectiveness, and customizable attributes, all features of this software suite, yet previously unavailable on the market in one product.
According to the most recent National Health and Nutrition Examination Survey (NHANES), 16% of children aged 6 to 19 years in the United States are overweight. This represents a 45 percent increase from the decade before.
"We would like to see schools across the country begin using Weight Loss Wisdom Screensavers as a way to create a dialogue between teachers and students about the benefits of a healthy lifestyle," added Clawson. "The use of fun pictures along with quick, easily read quotes, will captivate the students and teach them the fundamentals of nutrition and the importance of exercise. Students can then take home these healthful lessons to share with their parents and siblings."
In addition to educational institutions, today's workplace benefits from the software. Large and small companies alike are constantly seeking new ways to improve the health of their employees and promote wellness to reduce healthcare premiums and sick time, increase productivity and foster a positive corporate culture. These screensavers help facilitate that in an efficient and cost-effective manner.
"Quotations can, and do, change people's lives," said Reina.
Instant Wisdom screensavers are priced retail from $19.95-$24.95. To purchase or learn more about Instant Wisdom, visit http://www.ScreensaverWisdom.com or call (954) 349-7611.
###