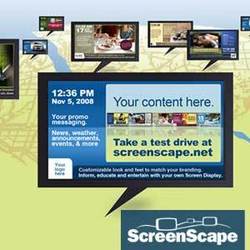 In Rob we have hired a CFO with the skill and experience necessary to strengthen the company through our current growth phase.
Oakville, Ontario and Charlottetown, Prince Edward Island, Canada (PRWEB) October 29, 2009
ScreenScape Networks Inc., the leader in Venue Networking, today announced that it has appointed Rob Binns, CA as its Chief Financial Officer (CFO). An alumnus of Acadia University, Mr Binns brings with him 15 years experience in executive management, financial planning, and budget management functions, having held senior level positions at Genzyme, Diagnostic Chemicals, and iWave.
"In Rob we have hired a CFO with the skill and experience necessary to strengthen the company through our current growth phase." said Kevin Dwyer, ScreenScape President and CEO. "Rob has a deep understanding of financial management, with leadership experience inside both private and public companies. By bringing his expertise to ScreenScape he will help us to capitalize our business to take full advantage of our leadership in this new and exciting market."
Mark Hemphill, ScreenScape Founder and Chief Product Officer added, "Drawing upon a clear technological advantage, ScreenScape has rapidly distinguished itself in the marketplace. Recruiting a top talent in the role of CFO is a key next step for us and we certainly have done that in bringing Rob on board. Rob will take the lead in our financial matters and work closely with Kevin and I to establish the key metrics and operational procedures that will continue to guide us."
Binns describes the ScreenScape opportunity: "I am thrilled to be joining Kevin, Mark and the rest of the ScreenScape team as the company accelerates through its growth phase. It is clear to me that ScreenScape represents the future of retail marketing and I am looking forward to joining a team that is already so deep both in technical and business leadership."
About ScreenScape Networks
ScreenScape is an Internet Service and Community that offers a smarter, simpler and more cost-effective way for anyone to use screen displays in their venue. The service has been described by pundits as Web 2.0 digital signage as it combines professional display authoring tools with the content sharing principles and techniques of social media. Members of ScreenScape form a community of venues interconnecting to establish a shared resource and marketplace for exchanging content. ScreenScape is rapidly becoming the platform of choice for building flexible digital signage networks that span organizational boundaries.
ScreenScape Networks Inc.
(902) 368-1975
screenscape -at -screenscape.net
P.O. Box 291, 133 Queen Street, 3rd Floor, Charlottetown, PE C1A 7K4 Canada
http://screenscape.net
# # #