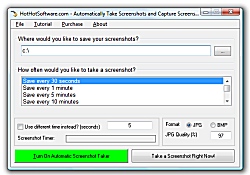 Wow, it was that easy. A real time saver.
Los Angeles, California (PRWEB) February 24, 2013
New software released from HotHotSoftware allows users to easily take screenshots at specific intervals. It is a very handy screenshot capture utility, that can be used by a variety of professionals.
Designed by HotHotSoftware, this utility can be used in many instances. It may be used to easily create walk-through demos for products or services. The software may be used to auto time interval setting set auto screen capture. The software may be used to auto backup screen captured images, and save to a user specified folder. Finally, the software may also be used to monitor computer access, a useful for workplace computers to ensure compliance to company policy in regards to computer use.
These are just a few examples of the applications of the software. To learn more click here.
About HotHotSoftware.com
HotHotSoftware is a company that specializes in developing innovative software applications, solutions and utilities that help shorten development time, increase computer user productivity and enhance the overall computer use experience. Applications range from flash based applications, to Microsoft Excel, Word, and Access plugins, to sophisticated utilities. HotHotSoftware has been featured in various online and offline publications, websites, and editorial sites. For complete details, visit hothotsoftware.com. Companies wishing to have custom software development work may also contact HotHotSoftware for a custom quote