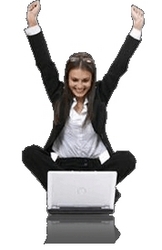 How can I get a producer to read my screenplay?
Hove, East Sussex, UK (PRWEB) October 24, 2008
"How can I get a producer to read my screenplay?"
That's one of the most common questions aspiring screenwriters ask, says Phil Gladwin, the established TV writer behind the Screenwriting Goldmine website.
Phil, who has written a number of dramas for the BBC and ITV, knows how hard it is to get that lucky first break.
So in a series of exclusive audio interviews, Phil has asked his friends and colleagues who have worked on award-winning shows to share their ideas on how you can get your big writing break.
For example:

Bryan McDonald explains how, within 48 hours of writing 25 pages of a spec script for the TV Western show 'Deadwood', he had been flown to Hollywood and hired by series creator David Milch, who also created 'NYPD Blue'
Vanessa Haynes is head of development at Steve Coogan's Baby Cow production company - she describes what she looks for in new comedy - and gives a very clear idea of what she wants to see in a spec script.
Toby Whithouse talks about how he submitted an idea for 'Doctor Who' and ended up writing the episode where the Doctor and his former assistant Sarah Jane Smith are reunited. Toby also explains how his own show, 'No Angels', was commissioned.
Silvia Manning shows how her experience as an actress, the contacts she had made (and a large helping of steely determination) meant she was been able to create and write her own sitcom, 'City Girls' - ending up as executive producer.
The interviews are being released as part of the countdown to the launch of the new-look ScreenwritingGoldmine.com.
The site builds on the success of Phil's popular learning package, 'Screenwriting Goldmine: How to Write a Screenplay People are Desperate to Read'. People who use the package, follow Phil's blog, or contribute to the ScreenwritingGoldmine.com forum, can tell you how much they appreciate the advice and input that Phil gives.
The package will be soon only available to members when the new-look site goes live next week on October 30. The interviews are just one exciting new element of ScreenwritingGoldmine.com which will help writers achieve their dreams of having their screenplay filmed for an audience.
To hear the interviews and to register for more news about the site, visit the site's screenwriting blog.
Or find out what other Goldminers think in the site's scriptwriting forums
Notes for editors
Phil Gladwin has been writing for over 25 years but had his first break with the BBC in mid 1990s. As a script editor for the BBC and ITV he worked on a number of popular and award winning UK TV shows such as 'Casualty' and 'The Bill', and has also spent significant time in development script editing for the BBC and World Productions, a multiple BAFTA-winning top indie production house.
Phil moved into screenwriting full time in 2000 and has had many hours of tv drama produced - recent highlights include 'Trial & Retribution' for Lynda La Plante, and two episodes of the 'Doctor Who' spin-off show, 'The Sarah Jane Adventures'. (See IMDB for more details.)
The audio interviews have been carried out by Sally Brockway, a leading British-based TV journalist who is now working on her third screenplay. Sally started out in journalism on local papers before joining the national newspaper Today. She then moved to The Sun before becoming a freelance writer. Sally is a regular contributor to TV Times, Soaplife, and What's On TV magazines. Kay Mellor has been among Sally's screenwriting tutors.
'Screenwriting Goldmine: How to Write a Screenplay People are Desperate to Read' has been available as a downloadable book and audio package since 2007. It is a practical guide to the screenwriting process, covering everything you need to know from conceiving the idea, through plotting the structure to completing the first draft. From October 30 it will be available only to members of Screenwritinggoldmine.com
For more information:
Visit Phil's blog to get screenwriting advice or contact Phil on +44 (0)1273 906909.
ScreenwritingGoldmine.com
12 Chapel Mews
Hove
East Sussex
BN3 1AR
UK
###