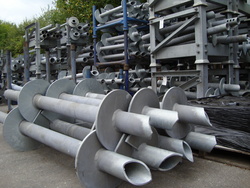 (PRWEB) September 9, 2010
FLI Structures are the leaders in the design, manufactures, supply and installation of steel structures and their foundations including screwpiles and steel grillages.
From their experience in screwpile design and manufacturing; which is displayed on their website, FLI Structures have recently been awarded the prestigious certificate for the 'Register of Qualified Steelwork Contractors Scheme for Bridgeworks'.
FLI Structures were presented with this certificate as they provide exceptional services and quality products, these products can be viewed on the FLI Structures website. More bridge site contractors are now using these innovative products such as steel grillages anchored down by screwpiles/Helical screwpiles as these new foundation solutions enable bridges to be built faster, reducing delays from engineering work.
FLI screwpiles will support structures in both tension and compression providing an ideal solution where overturning moments are significant. The screwpiles are individually designed by FLI's engineers to suit the separate ground conditions on the site. The torques are recorded during installation to confirm that adequate capacity has been achieved. Testing can be done simply if required.
Screwpiles have only recently been discovered as a cost effect, and proven replacement for original methods for foundations, the main benefits that screwpiles contain compared to other foundations include –

Screwpiles are quick to install – saving time & money
No excavations or spoil to cart away – saving money, particularly if there is contaminated ground
No concrete or curing time – enables speedier commissioning of sites
Small footprint – enables smaller bases in restricted areas
Screwpiles have a flexible design - frames can be designed to bridge services allowing area congested services to be built negating the need for re-routing cables.
Sustainable solution – screwpiles are removable & re-useable.
Installation in low temperatures – no down time, unlike concrete
Screwpiles are a cost effective solution in soft ground, where traditional piling is more expensive and concrete is technically unsuitable
Helical screwpiles, with their simple elegance and their sophisticated design, are the latest form of foundation technology to be designed. A helical pile consists of a galvanised steel shaft onto which is welded a series of low-pitched circular steel plates.
There are different benefits with Helical screwpiles compared to conventional piles, these include –
Helical screwpiles are fast in install
Vibration free, quiet and virtually fume-free
No excavations or spoil to remove from site
No concrete or curing time
Small footprint - helical screw piles are ideal for restricted sites
Helical screwpiles have a design flexibility
Sustainability (removable and re-useable)
Steel Grillage specialists
FLI Structures also manufacturer steel grillages. A steel grillage is a rigid construction that's placed at sufficient depth below ground that the weight of soil removed to place it equals the weight of the supported structure. Steel grillages can hold many types of diverse structures such as railway OLE gantries and highway signage. Steel Grillages are the interface structures that often link underlying piles to overlying structures.
FLI Structures are also manufactures of many other relevant products for the Bridgeworks industry. The two main other sources of foundations that provide good foundations solutions in difficult ground include:-
For situations where piling foundations cannot be used, FLI Structures have come up with the solution of using Driven Piles. Driven Piles are fairly new to the industry and are used when the ground is very solid and only sheer force is what is required to install a Pile.
New Mini Piles
Another alternative to Driven Piles is the relatively new Mini Piles (also referred to as Micro piles). Mini piles are another version of FLI Structures core product screwpiles, however they again can be used for different soil situations. FLI Structures have just created a new page on their website to show the benefits of mini piling.
This revised site is a valuable online Screw Piling resource
FLI Structures are proud to be a part of the Register of Qualified Steelwork Contractors Scheme for Bridgeworks. Screwpiles offer attractive time and money saving advantages for many construction projects. Their newly extended web site offers an easy-to-use resource for anyone specifying screwpiles or needing to understand the diverse uses of screwpiling. All these new products mentioned above have recently been created as new web pages on the FLI Structures website where further information is available.
For more information on this or any of our products please visit our website or contact us on 44-(0)1452-722200
###