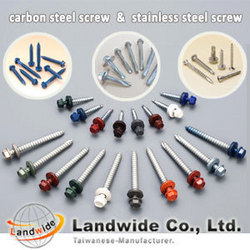 We have faith in our screws in terms of quality and performance. Each single screw from Landwide has passed strict quality control standard and various tests & measurements
Taiwan (PRWEB) March 2, 2009
Ever since their establishment in 1978, Landwide Co., Ltd. has been focusing on construction and furniture fastener manufacturing and developments. As a leader of stainless steel screws and carbon steel screws in domestic markets, Landwide has decided to reach out for more clients and set up their own exporting brand in 2006. Major product lines of Landwide includes self drilling screws, self tapping screws, machine screws, concrete screws, and roofing screws.
"We have faith in our screws in terms of quality and performance. Each single screw from Landwide has passed strict quality control standard and various tests & measurements," said Ms. Jennifer Kuo, sales manager of Landwide Co., Ltd.
Presently, standard screws contributes around 70% and customised screw 30% to Landwide's total export value, with major market focuses in Europe and North America. About 60% of Landwide customers come from Europe, 30% from US, and 10% from Asian countries such as Turkey and Malaysia. In Europe, Landwide mainly exports roofing screws and self drilling screws to eastern Europe and customised screws to western Europe, assisting buyers from countries including Italy and Germany. As for US markets, flange washer head screws and concrete screws are the best-selling series that occupies up to half export value. Landwide is now planning to shift its emphasis to higher-end screws and customised screw manufacturing in order to maximize their advantage in custom fields.
Distinctive Features and Screw Series from Landwide:
What are the defining factors that make Landwide special in this highly competitive fastener industry? "We are extremely confident in screw quality, manufacturing technique, and flexible service & delivery," according to Ms. Kuo. As an ISO 9001 approved manufacturer, Landwide adopts strict standards in both manufacturing and QC process. Available services include material purchase and selection, screw design, coating, packaging...etc., covering the full range of screw manufacturing. Five major screw series from Landwide are self drilling screws, self tapping screws, concrete screws, machine screws, and roofing screws, and sizes ranging from diameter 2mm~8mm and lengths 5mm~300mm.
The latest screw series developed by Landwide is 6-cuts self drilling screws and 8-cut self drilling screws, which are especially designed for dealing thick metal plate. Few suppliers in current market have the ability and equipments to supply 6-cut / 8-cut self drilling screws, and Landwide is on the list with mature technique. These two series are one of the patented products from Landwide, capable of drilling into thick steel plate with fast drilling speed. For 6-cut self drilling screws, its drilling thickness is the same as the screw outer diameter. For example, if the screw diameter is 6.3mm, it can handle thickness of drilling plate up to 6.3 mm. 6-cut self drilling screw is applicable in #2 and #3 drilling point, and 8-cut self drilling screw is for #5 drilling point, with guarantee of 20mm steel plate drilling ability.
In terms of customised screw, Landwide has assisted various clients from western Europe. One of the examples is designing screws with deeper drive which may possibly cause splits in screw heads leading to higher defective rate and unstable performance. However, with proper adjustments and a series of testing and improving processes, Landwide overcame the potential risks and successfully provided the desired customised screws to the client. Another custom case dealt with screw bending angles. Regular stainless steel 410 screws can only tolerate bending angle under 30 degrees, while Landwide reached 45 degrees under the same mechanical conditions. Such examples clearly demonstrate why Landwide can take a seat in the competitive screw industry.
International Trade Fairs Roots Landwide Screw in Global Market
To keep in contact with foreign clients and current developments in the fastener & hardware industry, Landwide Co., Ltd. takes part in at least two international exhibitions annually. Among the list, International Hardware Fair Cologne in German and National Industrial Fastener Show (West) holding at Las Vegas are the most influential trade shows in the field, which Landwide never misses. Seizing every opportunity to exhibit their reliable techniques and high-quality screws, Landwide sincerely invites global clients to experience their value-added service. In the coming decades, Landwide will continue to introduce more innovation in stainless steel screws and fasteners, hoping to become the leading screw supplier worldwide.
Contact Information:
Company Name: Landwide Co., Ltd.
Contact Person: Ms. Jennifer Kuo
Address: No. 306, Hsin Chuang 1st. Road, Zuoying District, Kaohsiung City, 813, Taiwan
Tel: 886-7-5550965
E-mail: jennifer_kuo (at) landwide (dot) com.tw
Company Website: http://www.allproducts.com/metal/goldenmetal/ and http://www.landwide-screw.com
Please visit allproducts.com Press Room for further information.
###