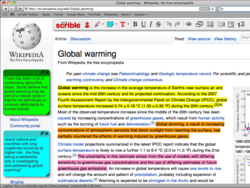 Given the tremendous volume of industry news we get on a daily basis, I find scrible to be an invaluable tool for marking up and saving the most interesting articles
San Mateo, CA (PRWEB) May 04, 2011
scrible, Inc., the leading innovator in online reading and research technology, announced its launch today with $500,000 in additional funding from the National Science Foundation (NSF). scrible released its novel web application into public beta to advance a new way of working with online information. The cloud-based service allows Internet users to richly annotate web pages in any browser and manage and collaborate on them online.
scrible aims to bring Web-based research into the Internet Era. Instead of printing web pages to annotate by hand, or copying and pasting passages into documents and emails, users can mark and manage vital Web-based information online. The service combines a bookmarklet and web site for an online solution that works across browsers and operating systems.
While working online, users can use the bookmarklet to save web pages in case they disappear; richly annotate articles with intuitive tools including highlighters and sticky notes; and share annotated online research with others. Users' saved and shared information is stored in personal accounts at scrible's web site, where the information is indexed so it can be easily searched with keywords. Users can organize and manage their online research with power, speed and ease using tags and filters.
The National Science Foundation has awarded scrible a highly competitive $500,000 Small Business Innovation Research (SBIR) Phase II Grant for its work. This funding builds on the NSF's previous Phase I Award of $100,000, bringing scrible's total grants to $600,000. This funding enables scrible to add world-class engineering and development talent to its team.
"NSF funding has played a critical role in transforming scrible from a bootstrapped startup," says scrible CEO Victor Karkar. "We're honored to have the nation's leading science and engineering institution support our vision of a more powerful online reading and research experience."
scrible received the Phase II Award based on technology development and market validation during its Phase I work as well as its commercialization plans. Its funding proposals were rigorously reviewed by the nation's top venture capitalists, computer scientists and academic researchers, who evaluated the intellectual and technical merits of scrible's work as well as its market potential and societal impact. The chief objective of the NSF SBIR Program is to increase the incentive and opportunity for small firms to undertake cutting-edge, high-risk, high-quality research that could have significant commercial and public benefit.
"Given the tremendous volume of industry news we get on a daily basis, I find scrible to be an invaluable tool for marking up and saving the most interesting articles and tagging them in a way that lets me find them quickly when needed, says Toopan Bagchi, Director of Corporate Strategy at PepsiCo. "Prior to scrible, I would occasionally print the most important articles and resort to online searches for others, inevitably encountering dead links. scrible makes all of this simpler, more effective, and less wasteful," he added.
A key goal of scrible's public beta launch is to gather feedback from early users to rapidly refine the service and mold it into an indispensable platform for online reading and research. Given the widespread use of the Web for school, work and personal projects, scrible expects rapid growth as consumers and businesses embrace it to help them work effectively with exponentially growing Web content.
For more information about scrible, email Victor at press(at)scrible(dot)com or visit http://www.scrible.com.
###