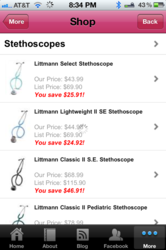 A happy nurse is a comfortable nurse!
Boston, MA (PRWEB) November 17, 2011
Scrub Couture is paving the way as a Medical supply company integrating technology into its everyday business operations. "With the launch of the Scrub Couture App in the Apple App Store and Android Marketplace Scrub Couture hopes to make it as convenient as possible for Nurses, Doctors, Veterinarians and anybody else in the Healthcare industry to shop and learn about the latest and greatest Medical Uniforms, Footwear, Stethoscopes and Instruments at their convenience" states Danny Moore of Scrub Couture.
Scrub Couture distributes something for everyone with over 45 brands and more than 100,000 products. Scrub Couture is a young company, only 2 years old, but one way it has grown so fast is through technology. Scrub Couture's Customer Service team manages customers efficiently by using Apps on iPads and iPhones. Scrub Couture also creates brand awareness and buzz about products through multiple avenues online whether it's Press Releases, Blogs, or Social Media and are is always on the look out for emerging technologies that can be used to better the business.
"Scrub Couture is actually an exception to the common place uniform store, we've accomplished all this progress without an actual brick and mortar store which was heavily frowned upon 2 years ago when we started in this industry. We must be doing something right!" states Danny Moore of Scrub Couture
Download the Scrub Couture App today to an iPhone, iPod, iPad or any Android Device and take a look at the latest Scrubs and leave a comment on the Fan Wall for a 15% off coupon, there is also a photo contest, just upload a photo in the app for a chance to win a $50 gift certificate!
###