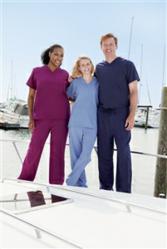 20% off on Cyber Monday!
Boston, MA (PRWEB) November 13, 2011
Online Scrub, and medical distribution powerhouse Scrub Couture is celebrating Cyber Monday, the busiest online shopping day in the country with a 20% off site wide coupon (excludes Littmann Stethoscopes).
Cyber Monday has been thriving since it's inception in 2005 and is the online equivalent to Black Friday; Cyber Monday is always the Monday after Black Friday and falls on the 28th. "These two shopping Holidays are the busiest days of the year, and a serious opportunity for buyers to reap some amazing rewards on practically anything one could think of. There aren't honestly any businesses in today's market that don't participate in these holidays, which consumers will likely welcome with open arms especially in today's economy," quotes Danny Moore.
Not familiar with Scrub Couture? Visit the website where and shop for the "latest and greatest" scrubs, lab coats, stethoscopes, medical footwear and instruments from a wide variety of brands.
Here's a current list:
1.) ASPCA Veterinarian Scrubs
2.) ADC Medical Instruments
3.) Baby Phat Scrubs
4.) Barco Uniforms
5.) BooJee Beads
6.) Carhartt Scrubs
7.) Cherokee Uniforms
8.) Dickies Medical
9.) Gel Scrubs
10.) Grey's Anatomy Scrubs
11.) IGUANAMED Scrubs
12.) Jockey Scrubs
13.) K-Swiss
14.) Littmann Stethoscopes
15.) Mary Engelbreit Scrubs
16.) MDF Instruments
17.) Med Couture
18.) META Labwear
19.) New Balance Healthcare Scrubs
20.) Peaches Sport
21.) Peaches Uniforms
22.) Prestige Medical
23.) Skechers Scrubs
24.) White Swan Scrubs
25.) Wink Scrubs
So visit Scrub Couture and browse Scrubs from all these great brands, and on Cyber Monday, November 28th, 2011 take 20% off at checkout with code CYBER, additionally get free shipping on all orders over $125.
Feel like replacing the whole work wardrobe? Ordering for the entire office? Take 25% off of orders of $250 with code CYBER1, 30% off of orders of $500 with code CYBER2 and 35% off of orders of $1,000.
Is life too busy to sit in front of the computer and shop? Download and install the Scrub Couture App from the Apple App Store or the Android Market and shop from your iPhone, iPad, iPod and Android devices.
###