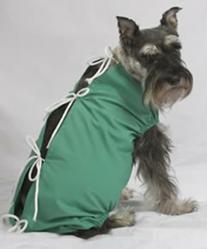 These scrubs for pets make recovery for an injured pet so much more comfortable. They are a wonderful alternative to the Elizabethan collar.
Manassas, VA (PRWEB) July 06, 2011
Manassas company, Scrubs for Pets Innovative Pet Supplies, has developed a new line of post-surgical garments that promises to do away with the cumbersome and uncomfortable neck cone that pets normally wear after surgery or an injury. These specialized pet scrubs completely cover the pet's abdomen, keeping them from licking or biting at surgical wounds or stitches, while also enabling them the freedom of movement and comfort that the Elizabethan collar does not allow. The company has also launched a new website that gives pet owners and veterinarians the opportunity to see how the scrubs work, obtain clear sizing information, and the opportunity to order these innovative scrubs online.
Violetta Stephenson, owner of the company and a native of Poland, explains that similar specialized pet scrubs have been available in Europe for several years. "These scrubs for pets make recovery for an injured pet so much more comfortable. They are a wonderful alternative to the Elizabethan collar. The awkward, disorienting neck collar causes more stress for a pet and for pet owners because it disorients the pet, obstructs their hearing, and often causes them to bump into things. The frustrated pet usually spends a lot of time whining and clawing to remove the cone, and once the cone is gone, licks and chews on the wounds, which defeats the collar's purpose entirely. Our pet scrubs, on the other hand, allow a pet to relax and heal in comfort while still protecting the wound site."
The Scrubs for Pets website features a video that demonstrates a pet owner putting the scrubs on a dog. The pet's legs slip easily through the holes, while the scrubs cover the entire torso area of the pet. The scrubs tie in several places down the back where a pet cannot reach. According to Stephenson, the specialized pet scrubs are not only comfortable and breathable, but they also protect the wound from the environment also preventing wound seepage onto furniture and rugs. "Scrubs for pets help injured pets eat and sleep more comfortably than the e-collar. The neck cone makes it nearly impossible for a pet to eat or sleep normally, causing stress that affects recovery time. The scrubs can also be washed and reused as needed. Veterinarians and pet lovers who have seen these scrubs in action are excited about finally having an alternative to the Elizabethan cone."
The new Scrubs for Pets website also points out that the specialized pet scrubs come in several sizes that accommodate dogs, cats, rabbits, and other small to medium four legged animals. The ordering page gives pet owners simple directions about how to measure their pets for the special scrubs so they can order the correct size. Stephenson reiterates, "It is so important for pets recovering from an injury or from surgery to feel comfortable and be able to rest. The Elizabethan cone makes them feel punished, stressed out and frustrated, but our specialized pet scrubs really helps a pet feel comfortable and loved, all of which speeds their recovery."
###