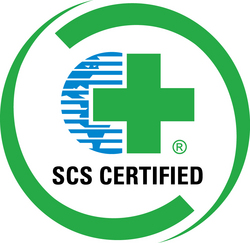 We are proud to be part of the growing sustainability industry here in the Bay Area. Being headquartered in the Bay Area has given us access to exceptional people and resources as we've expanded
Emeryville, CA (Vocus) October 22, 2010
Scientific Certification Systems (SCS), which certifies the environmental sustainability of products for well-known companies including Numi Tea, Safeway and Kelly-Moore Paints, has been ranked as one of the "Top 100 Fastest-Growing Private Companies" in the Bay Area by the San Francisco Business Times.
The ranking follows a period of increased industry focus on corporate sustainability and explosive growth for SCS, which ranked #39 on the list. The ranking follows SCS' inclusion in Inc. Magazine's "Inc. 5000" list of the fastest growing companies in the United States.
"We are proud to be part of the growing sustainability industry here in the Bay Area. Being headquartered in the Bay Area has given us access to exceptional people and resources as we've expanded," notes Dr. Stan Rhodes, President and CEO of SCS.
Rhodes believes a key reason for the company's success is its strict adherence to a scientific approach. "Our unbiased, no-nonsense methodology gives us an advantage over our competitors. In turn, certification from us gives our clients credibility in the marketplace."
SCS predicts continued growth and is moving into larger offices by the end of the year.
SCS has been a pioneer in the sustainability field since its inception in 1983. The company has grown its revenue 176 percent over the past 3 years, from $5.3 million in 2007 to $14.5 million in 2009. During the same period, the number of staff grew from 31 to 85-- and SCS continues to hire new staff.
This ranking will appear in the October 22 edition of the Business Times and was announced at an awards reception on October 20, at the Hilton San Francisco Union Square.
Scientific Certification Systems (SCS) has been providing global leadership in third-party environmental and sustainability certification, auditing, testing and standards development for more than 25 years. SCS programs span a wide cross-section of industries, recognizing achievements in green building, product manufacturing, food and agriculture,
forestry and retailing.
The San Francisco Business Times is a print and online newspaper covering healthcare, banking, insurance, real estate, green business, and technology businesses headquartered in San Francisco, Oakland, the East Bay and Marin. Its "Top 100 Fastest-Growing Private Companies" in the Bay Area is issued annually.
###