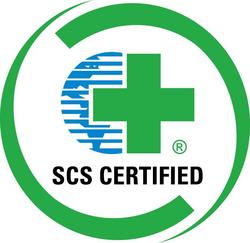 Our certifications go beyond the requirements in these proposed revisions by using onsite audits, lab testing, and annual renewals to make sure our clients' claims are backed up with data. We certify to transparent, publicly available standards, which allows for stronger claims than are required
Emeryville, CA (Vocus) October 8, 2010
The Federal Trade Commission (FTC) proposed revisions to its "Green Guides" on October 6, 2010 in an effort to stem misleading green marketing. These revisions confirm SCS' efforts over the past 25 years to establish transparent, specific and verifiable environmental marketing claims.
"In recent years, businesses have increasingly used 'green' marketing to capture consumers' attention and move Americans toward a more environmentally friendly future. But what companies think green claims mean and what consumers really understand are sometimes two different things," said FTC Chairman Jon Leibowitz. "The proposed updates to the Green Guides will help businesses better align their product claims with consumer expectations."
SCS has verified product claims for well known companies such as Safeway, Owens Corning, and The Home Depot, which recognize that SCS certifications consistently exceed regulations, allowing them to provide customers with added confidence in their environmental communications.
"Our certifications go beyond the requirements in these proposed revisions by using onsite audits, lab testing, and annual renewals to make sure our clients' claims are backed up with data. We certify to transparent, publicly available standards, which allows for stronger claims than are required," says CEO Dr. Stan Rhodes.
Getting certified by SCS helps businesses demonstrate their commitment to environmental responsibility. Because of SCS' uniquely scientific methodology, certification often has a positive impact on the bottom line through enhanced employee morale and consumer loyalty.
SCS plans to submit comments to the FTC about strengthening the Green Guides before the end of the FTC's public comment period on December 10, 2010.
Scientific Certification Systems (SCS) has been providing global leadership in third-party environmental and sustainability certification, auditing, testing and standards development for more than 25 years. SCS programs span a wide cross-section of industries, recognizing achievements in green building, product manufacturing, food and agriculture, forestry, and retailing.
###