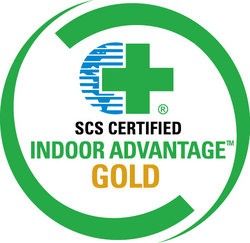 This is a long-awaited development
Emeryville, CA (Vocus) March 18, 2010
Scientific Certification Systems (SCS), the leader in environmental and sustainability assessment services for 25 years, announced today that its premier indoor air quality certification, SCS Indoor Advantage™ Gold will certify products for residential use for the first time.
SCS Indoor Advantage Gold, the seal of the best-performing interior products for offices, health care facilities, and schools, now extends to paints, wallcoverings flooring, insulation, windows and doors designed for homes. "This is a long-awaited development," announced Program Manager Stowe Hartridge-Beam, SCS. "Concerned homeowners and parents will now be able to purchase SCS Indoor Advantage Gold-certified products for healthier, safer homes."
The SCS Indoor Advantage Gold standard is based on the scientific thresholds of the emissions testing method for California Specification 01350 (Section 01350), which was just revised and reissued March 10 as the Standard Method for the Testing and Evaluation of Volatile Organic Chemical Emissions From Indoor Sources Using Environmental Chambers, Version 1.1.
Key changes have been made to the fundamental 01350 standard, making testing protocols easier to understand and expanding its relevance to residential uses. The CA standard is also beginning an important harmonization process in line with the way SCS has been conducting IAQ certification for the past six years.
This new revision to Section 01350 is the first update since the original release in 2004. Major changes in Version 1.1 include:

Adoption of a lower allowable emission limit for formaldehyde, effective January 1, 2012;
Incorporation of the ANSI/BIFMA M7.1-2007 as the recognized test method for pupil desks and chairs, open-plan office furniture and office seating;
Addition of a preliminary new single-family residence scenario for IAQ concentration modeling.
Further revision to Section 01350 will occur during 2010, with Version 2.0 expected to be released in January 2011. Key elements proposed for Version 2.0 include further refinement of the residential scenario, protocols for assessing additional chemicals of concern, and further harmonization with other standards.
Scientific Certification Systems (SCS) is a global leader in independent certification of environmental, sustainability, stewardship, food quality, food safety and food purity claims. For more than 25 years, SCS has developed internationally recognized standards and certification programs in pursuit of the highest level of environmental performance and social accountability. SCS certifications recognize accomplishments in greenhouse gas inventories and offsets, agricultural production, food processing and handling, forestry, fisheries, flowers and plants, energy, green building, product manufacturing and corporate social responsibility. Find certified products for your home or office at http://www.SCScertified.com/products.
# # #