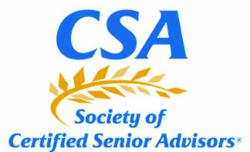 More than a "half million taxpayers have become victims of wage and/or identity tax fraud and those cases have tripled between 2009 and 2011
Denver, CO (PRWEB) December 11, 2012
An article appearing in the Fall 2012 Journal of the Society of Certified Senior Advisors (SCSA) titled Seniors and Identity Theft highlights the serious issues both behind the epidemic and tips on how to prevent this from happening to yourself and loved ones. Written by Delmar C. Gillette, President of Economic Planning Services in Newport News, VA, the article details what constitutes identity theft and fraud.
Gillette points out that more than a "half million taxpayers have become victims of wage and/or identity tax fraud and those cases have tripled between 2009 and 2011." Technology has made privacy issues almost non-existent while thieves have become more sophisticated at stealing Social Security numbers, bank accounts and drivers' licenses.
The journal article examines a number of reasons why seniors are targeted and the ways that these identity thieves accomplish their acts. Gillette also identifies victim resources for seniors that they can turn to for help. Most importantly, he suggests twelve identity theft prevention tips that are useful for seniors but also for anyone concerned about privacy issues. The first three are:

Do not give out personal information over the phone unless you initiated the call.
Do not carry your Social Security or Medicare cards in your wallet.
Cut up or better yet shred, rarely used or unused credit cards.
Along with credit card theft, Gillette cites the growing epidemic of identity tax fraud. There are now more insidious methods used by identity theft criminals: going after a person's tax information. Gillette says that this type of theft has a societal affect: it is costing taxpayers hundreds of millions of dollars annually. In essence, the IRS pays two refunds—one to the criminal who gets a claim approved and one to the legitimate taxpayer who may have to wait a long time before receiving their rightful refund.
About Society of Certified Senior Advisors (SCSA):
SCSA educates and certifies professionals to work more effectively with their senior clients. As the leading provider of certification for professionals serving seniors, SCSA's Certified Senior Advisor (CSA)® credential requires CSAs to uphold the highest ethical standards for the benefit and protection of the health and welfare of seniors. Accredited by the National Commission for Certifying Agencies, the CSA credential is the gold standard for professionals in all areas who work with the senior population. Through a comprehensive educational program, SCSA helps professionals understand the key health, social and financial issues that are important to the majority of seniors. For more information about SCSA, the CSA credential, and SCSA's education program, visit http://www.csa.us.