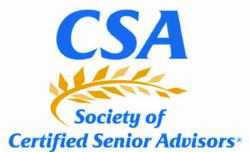 SCSA hosts member's only educational webinars every month to keep its members up-to-date on critical issues; this webinar however will be available free
Denver, CO (PRWEB) April 03, 2012
The Society of Certified Senior Advisors will be hosting its April educational webinar, More About Medicare and Changes in 2012 presented by Nancy Dykeman, CSA, CLTC. This informative webinar will provide viewers with the information they need to better understand the complexities and changes in Medicare for 2012.
This webinar will take place tomorrow, April 4, 2012 at 12:00pm MST. This is a live webinar that will include a question and answer section at the end, but, for those who cannot attend, this will be recorded and available shortly after the conclusion of the webinar. SCSA hosts member's only educational webinars every month to keep its members up-to-date on critical issues; this webinar, however, will be available free to all members of the public. To attend please go to Changes in Medicare 2012 and fill out a registration form.
The presenter for this valuable webinar, Nancy Dykeman, is a premier educator in the LTCi field and highly qualified to speak out on Medicare. She is the owner of Long-Term Care Planning Consultants, LLC and founder/principal of LTCares, an education and planning company. Nancy provides education to individuals and business groups on planning for Medicare, Medicaid, Social Security, Senior Housing, Final Planning and Long-Term Care. Nancy serves as a core instructor for The Corporation for Long-Term Care Certification and is the chairman of CLTC Board of Standards. She is a faculty member of the Society of Certified Senior Advisors and an instructor of the Colorado Partnership Plan Training for LTC Connection.
By attending this webinar, viewers will have access to the wealth of knowledge Nancy will provide in her presentation, numerous handouts and guides pertaining to the webinar, PowerPoint slides to follow along with and take notes and Nancy herself to answer and clarify any questions that may need further clarification at the end. This is a valuable resource that SCSA is providing free as part of its commitment to serving senior citizens. SCSA has a plethora of free resources available to the public. To find more resources about Medicare or other topics relating to seniors visit our Free Resources section.
Space is limited to attend this live webinar. Seats will be available on a first come first serve basis. Don't miss the opportunity to learn from such a qualified expert on Medicare.
The Society of Certified Senior Advisors provides free resources and tools for our members as an ongoing commitment that we have in helping professionals to understand the complex and dynamic lives of modern senior citizens.
About SCSA
SCSA's mission is to educate professionals to work more effectively with their senior clients. For those who work with seniors, this means understanding the key health, social and financial factors that are important to seniors—and how these factors work together.