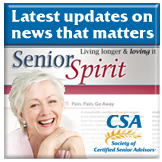 Each issue contains comprehensive articles on medical news, financial topics and lifestyle trends
(PRWEB) April 12, 2012
The Society of Certified Senior Advisors provides the Senior Spirit Newsletter as a tool that allows readers to get the latest updates on news that matters in the senior market. Each issue contains comprehensive articles on medical news, financial topics and lifestyle trends as well as how these issues affect seniors, their families and the professionals that work with them.
Registration for the Senior Spirit is free, as are many of the resources provided by the Society of Certified Senior Advisors, as part of SCSA's ongoing commitment to helping seniors and the professionals that work with them. To start receiving this valuable resource every month register at Senior Spirit Newsletter.
Past issues of the Senior Spirit contain articles such as "How to Get the Most Out of Support Groups: Seniors and Caregivers." This is one of many of the articles provided to inform readers about new trends and options available to help the modern senior citizen.
Excerpts from this article:
"Today's seniors grew up in a time when people often didn't share their feelings openly. It was not socially acceptable to disclose secrets of life-threatening illness or feelings of hurt or depression. However, today's society is not only accepting of a person in a vulnerable state, but it also offers avenues for guiding that person to many types of support groups. Isolation is no longer necessary. Others are experiencing similar issues and are willing to share and provide a safe place to show up and ask for help."
SCSA has a suite of free resources available including educational webinars, white papers, articles and more! Find out about all of the great resources SCSA has to offer at Free Resources.
The Society of Certified Senior Advisors provides free resources and tools for our members as an ongoing commitment that we have in helping professionals to understand the complex and dynamic lives of modern senior citizens.
About SCSA
The Society of Certified Senior Advisors' mission is to educate professionals to work more effectively with their senior clients. For those who work with seniors, this means understanding the key health, social and financial factors that are important to seniors—and how these factors work together.