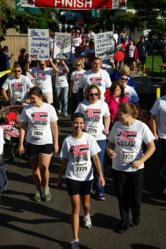 One person can
absolutely make a difference partner with organizations like SCTNow and make a bigger
difference
New York, NY (PRWEB) November 09, 2012
Lindsey Fischer believes in making a difference. Motivated to take action Lindsey Fischer was 21 years old when a statement on Facebook caught her eye and piqued her curiosity. "There are more slaves today than at any other point in history."
Staring at the screen she thought, "There is no way that's true!" Her own research on the issue of human trafficking confirmed the truth. When she discovered that the average age of entry into a life of prostitution is 12 years old, she was compelled to act.
"I have nieces and nephews, all of whom are 12 years old or younger." Lindsey explained. This issue hit home for her in a real way.
For the past four years, Lindsey has been involved in several anti-trafficking efforts, not only halfway around the world in Thailand, but also 20 minutes away from her own front door in Roseville, Michigan.
Today, Lindsey conducts street outreach twice a week to crack houses, prostituted women and pimps, offering prayer, a lunch bag, and friendship to anyone she meets
In February she started her own organization, All Worthy of Love, a nonprofit that seeks to raise up abolitionists and connect them with other anti-trafficking organizations. Rather than reinvent the wheel, Lindsey's heart is to connect individuals to other great organizations. She also speaks at events around Detroit to provide awareness to the general public about the issue of human trafficking.
In October, she connected with Stop Child Trafficking Now (SCTNow) to coordinate Detroit's first SCTNow Walk. The walk took place at Belle Isle Park to raise awareness and funds to stop the demand of child sex trafficking. Over a hundred walkers attended the event, raising $3,454 for the cause.
She admits that when she thinks about the great needs and vastness of the problem she sometimes asks herself, "What have I gotten myself into?" However, she is determined to continue until there are no slaves left in this world.
Her advice for those who, like her, have heard about the issue but may feel unable to do anything about it is this,"If it's caught your attention, go after it, full speed One person can absolutely make a difference partner with organizations like SCTNow and make a bigger difference."
About SCTNow
Stop Child Trafficking Now (SCTNow) was formed to make an impact in the fight against child sex trafficking—A problem that has been deemed as a growing issue in our nation, and nations around the world—one that needs every voice and every nation to rise against it.
SCTNow seeks to protect and deliver children from this heinous crime, by focusing funding on efforts on stopping the demand (buyers, predators, traffickers).
SCTNow believes that focusing efforts on stopping the demand has the power to interrupt the cycle of supply, demand, and distribution, resulting in fewer predators, and ultimately fewer victims.
SCTNow realizes that while a focus on the demand is necessary, child trafficking is a complex, multi-faceted issue requiring a comprehensive response. SCTNow's Partnership Program funds other non-profit organizations providing shelter, care and victim services.
The Stop Child Trafficking Now (SCTNow) 4th Annual National Walk Campaign is officially complete. The 2012 walks began the weekend of September 15th and ran until this past weekend, with the two final walks held in Staten Island, NY and Fayetteville, NC.
Over 3,000 people participated in this year's volunteer-led events in 23 different cities around the country, including a virtual "Anywhere" Walk which encouraged people in non-walk cities to join the movement from afar. This year's campaign has raised a total of $177,121.05.