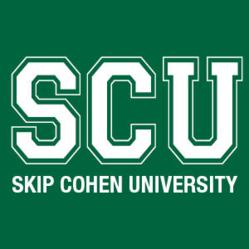 This is the culmination of every program the SCU team has done over the last 30 years in photographic education.
Sarasota, FL (PRWEB) January 30, 2013
"There's a fundamental misconception in photographic education right now. New photographers actually believe they can learn to be a photographer just watching videos and webinars. You can no more learn to be a professional photographer sitting in front of your computer than you could learn to drive a car just watching videos," commented SCU founder, Skip Cohen.
The idea for Skip Cohen University is the culmination of every program the SCU team has done involving photographic education for the last 30 years. For Cohen, he's best known as the guy who built the Wedding and Portrait Photographers International convention and association. With an amazing team they took it from 3000 attendees to over 16,000 and tripled the number of exhibitors.
Cohen founded Hasselblad University in the 90's. Then came WPPI, Rangefinder Magazine, the GoingPro project, Skip's Summer School and his current blog, Photo Resource Hub. But that's only the start of the depth behind this new project. His team includes Scott Bourne, social media guru, founder of Photofocus.com and the most followed photographer on Twitter as Dean of Marketing.
Clay Blackmore, one of the most recognized photographers in weddings and an accomplished photo-educator and Canon Explorer of Light, has taken on the assignment of Dean of the Wedding School. Matthew Jordan Smith, one of the most accomplished celebrity portrait, fashion and beauty photographers in the world is on board as Dean of Portraiture. Noted fusion expert, writer and educator, Rich Harrington is Dean of HDVideo/Fusion and Michele Celentano, known for her expertise in children and family photography, whose new book on family portraiture releases next week,who is also a Canon Explorer of Light, is Dean of Students.
Skip Cohen University is meant to help photographers develop their own educational resource center with live programming, webinars, podcasts, blog posts and a video center. SCU's first live program is March 8-9 in Las Vegas and will include Cohen, Bourne, Harrington, Blackmore and Michael Corsentino as instructors.
"The deans, together with our advisory board, will help to direct our content and programming, while the faculty will be involved in all of the various aspects of SCU, depending on topic needs and each photographer's availability. However, the most fun of all of this is utilizing the "university" concept," said Cohen.
SCU's model is based on academic terminology. Wedding 101 would be a beginner course, while 401 would be more advanced. The advisory board is the "Student Council" and is made up of seven different photographers covering a wide variety of experience and demographics. The Student Council has already held their first Google+ hangout to discuss and help plan the year ahead.
The instructors/contributors, known as the "faculty" are the cream of the crop in photographic education and so far include: Joe Buissink, Angela Carson, Sal and Taylor Cincotta, Bob Coates, Michael Corsentino, Bob and Dawn Davis, Dixie Dixon, JP Elario, Jim Garner, Julieanne Kost, Kevin Kubota, Tamara Lackey, Bobbi Lane, Justin and Mary Marantz,Charles and Jennifer Maring, Lori Nordstrom, Jen Rozenbaum, Adam Sherwin, Dawn Shields, Eddie Tapp, Roberto Valenzuela, Nick Vedros, Kirk Voclain and Moshe Zusman...and the list is growing more and more each week.
Photographers interested in attending the first SCU live event will find all of the information about the program on the Skip Cohen University site. In addition, @SkipCohenU is now on Twitter, another access point for photographers interested in the latest information on new programs.
There's also a significant effort being made in establishing the SCU Giving Back program which will start out committing 5 % of all revenue to selected photo-centric non-profit organizations at the end of each year. Cohen, a long time supporter of charitable causes has raised hundreds of thousands of dollars for a variety of different charities. His best known fund-raiser was the sale of Ansel Adams camera gear to shock jock Don Imus for $100,000 which went to the Elizabeth Glazer Pediatric AIDS Foundation.
The concept of this new approach to education, as stated on the SCU home page, is really not new at all: "At SCU we've decided to do something radical. We're going to go back to basics. To human handshakes, telephone calls, meetings that happen face-to-face in a room full of people who share a passion for photography."
Skip Cohen University is a project of Marketing Essentials International. MEI is an educational consulting company founded by Skip Cohen in 2009 and involved in a number of different photographic projects throughout the photographic industry.
For more information on how you can be involved in SCU sponsorship and programming contact SCU@mei500.com. For information about MEI contact Sheila Cohen at Sheila@mei500.com.