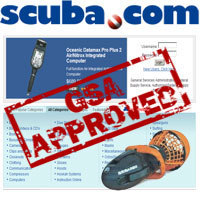 We are very excited about this GSA partnership, and the opportunities it opens up for us to share our scuba expertise with key government agencies
Irvine, CA (PRWEB) July 15, 2008
Scuba.com, the leading online scuba retailer, is proud to announce their newly acquired General Services Administration (GSA) Schedule Contract which was approved in June, 2008. This expands Scuba.com's business further, authorizing sales of scuba gear and accessories directly to US government organizations. The GSA Schedule provides 11 million commercial products and services that government agencies can order directly from approved GSA Schedule contractors such as Scuba.com.
A new GSA site has been setup at Scuba.com/GSA which allows GSA partners to browse the giant catalog of scuba equipment for purchase. Once a unique login has been established, GSA partners are able to purchase scuba gear directly from this site and take advantage of special features only available to government organizations. In addition, a special payment system has been set up which offers a thirty-day credit to better match the needs of GSA partners.
Scuba.com offers the best selection of underwater gear anywhere on the web, including specialized underwater equipment unique to the needs of our GSA partners. This includes underwater communication systems, rebreathers which allow for longer and more silent dives, underwater scooters to propel scuba divers, and mixed air dive computers that work with nitrox and air.
This GSA partnership is just one of many ways Scuba.com continues to expand its online business by making scuba shopping easy and affordable.
"We are very excited about this GSA partnership, and the opportunities it opens up for us to share our scuba expertise with key government agencies," said Melinda Herndon, co-founder of Scuba.com.
Scuba.com has been delivering the widest selection of dive gear possible to its customers for over 16 years. Their warehouse is 20,000 square feet and set up to receive orders from over 120 manufactures. Over 7,000 unique scuba diving items are in stock at any given time. Orders are shipped 6 days a week to ensure timely delivery to customers.
From Aeris to Zeagle and aluminum tanks to zodiacs, Scuba.com has everything you need to get you in the water this summer season, and they are authorized by their manufacturers to service and sell everything that they offer.
###