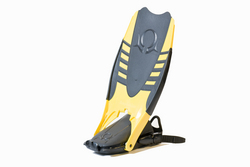 I always felt that the one thing standing in the way of a perfect dive was my fins
Buffalo Grove, IL (PRWEB) February 4, 2009
After transforming the diving industry with their award-winning line of Flipfins™, Omega Aquatics Inc continues to see their product highlighted in prestigious publications such as BusinessWeek, Sport Diver magazine and I.D Magazine's Annual Design Review.
The scuba fin is designed to propel divers swiftly and smoothly through the water. On land, however, fins can prove to be problematic and even outright dangerous to walk in.
Omega Aquatics has changed all that with the invention of Flipfins™, a series of high-performance fins that allows divers to switch from walking with the fin blade up to swimming with the blade extended without using their hands. This makes walking, climbing boat ladders, and other movements as easy as wearing ordinary shoes.
Flipfins™ have been universally well-received, including winning the Bronze IDEA Design Award from BusinessWeek, being highlighted on the cover of Sport Diver magazine and featured in I.D. Magazine's Annual Design Review.
The major breakthrough within the industry, the patented Amphibian fin system is designed to be strapped on prior to entering the water and removed after exiting. The anti-corrosive torsion springs push the blade webbing against the shin to allow divers to easily maneuver in and out of water. The blade is flipped down into swimming position by kicking naturally in the water, and flipped back up by pushing back on the release lever before getting out. The bottom of the foot pocket features a soft tread design for slip resistance when walking on slick surfaces.
The revolutionary Aqua-Hinge mechanism and highly efficient blade design provide an essential combination of performance and safety for scuba divers at all levels. No other fin can match the power and comfort provided by the Amphibian® model, which features a prominent central web configuration built to emulate the best swimmers in nature.
Omega Aquatics, Inc. founder Ronen Moyal envisioned the need for a hinged fin years ago. "I always felt that the one thing standing in the way of a perfect dive was my fins," said Moyal. "Walking on fins can be extremely dangerous and carrying fins in water, as most divers will tell you, can cause all kinds of problems like dropping equipment, drifting and wasted time and energy."
Flipfins™ have been adopted and are currently being used by Military, Navy, Special Forces and Rescue Divers in the U.S. and worldwide. These are the only fins that can be worn during airborne water entries, whether jumping from 20,000 feet or a rescue helicopter.
The Amphibian Flipfins™ are made in the USA.
For additional information on Flipfins™, visit Omega Aquatics new Web site at http://www.Flipfins.com. Omega Aquatics of Buffalo Grove, IL, a company that focuses on developing innovative aquatic products.
###