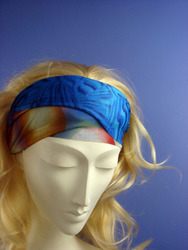 When explained the merits of the Big Oh, a newly released product, customers say "Ohhhhh."
Charlotte, NC (PRWEB) September 15, 2010
In response to customer needs, ScubaDoRag has released a new product. A 6" wide headband is joined together with a high quality ponytail holder allows for less bulk at the nape of the neck. And, hair or ponytail can be placed through the Big Oh. When explained, folks say, "Ohhhhh." Made of beautiful high-performance, limited edition fabric prints that stretch, some are reversible, some not. Can be worn wide or scrunched up, turned under. Wear as fashion, yoga, runners, underwater, with a wig, with a grin, at the gym - known for their comfort and performance.
Who can't use a Big Oh? To introduce the Big Oh, a coupon code BIGOH is provided to use at checkout for $5.00 off.
Although immersed in the scuba industry, ScubaDoRag has legs. All products, based on the secret agent philosophy of CoCo Cheznaynay®, are for any kind of active and/or fashion lifestyle, some designed with dual purposes, secret compartments, and reversible features for Secret Agent stylish life of mystery. See all of our products at http://www.ScubaDoRag.com
# # #