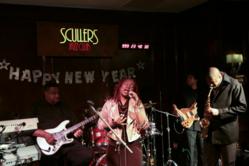 Pieces of a Dream at Scullers Jazz Club
(PRWEB) January 04, 2012
Pieces of a Dream emerged out of Philadelphia's music scene in 1976. Keyboardist James Lloyd, drummer Curtis Harmon and former bassist Cedric Napoleon, were (and still are) managed by the drummer's father and uncle, Danny and Bill Harmon, respectively. The group based their name on "Pieces of Dreams," a cover tune by Stanley Turrentine that the group performed.
Pieces of a Dream first started playing throughout the Tri-State area, and were soon featured on Temple University's pioneering jazz radio station, WRTI-FM. Long before the "Young Lions" era of Wynton Marsalis, Lloyd and Harmon were swinging so hard as teenagers that the great Count Basie once proclaimed them "a tough act to follow."
But it was another jazz legend, the late Grover Washington Jr., the sax man who made Philadelphia his home, who helped Pieces of a Dream become the internationally known stars they are today.
After quickly becoming popular around Philadelphia, the trio landed a spot as the house band for a local television show called City Lights. Their experience widened as they played backup on the broadcasts to a wide variety of artists, and that's where Washington first heard them. One day while the teenagers were playing at the Bijou (where Grover had recorded his Live at the Bijou album), he sat in with them to play "Mr. Magic."
From 1981 to 1984, Pieces of a Dream built their reputation with three albums on Elektra that would come to define the musical essence of the smooth jazz radio explosion: Pieces of a Dream, We Are One and Imagine This. Those seminal records yielded some of their earliest hits, including "Warm Weather," "Mount Airy Groove" and "Fo Fi Fo."
Soon after completing Joyride, their last effort for Elektra, Pieces of a Dream moved to EMI/Blue Note and went on to record seven more albums. During this period, the group amicably parted ways with long time friend Cedric Napoleon.
In 2001, Pieces of a Dream signed with Heads Up International and celebrated their 25th anniversary with what was undoubtedly their best album in years, Acquainted with the Night. The group's silver anniversary release featured guitarist Ronny Jordan, vocalist Maysa Leak, and saxophonists Gerald Albright and Kenny Blake. Highlights included compositions from Albright and Michael Bearden, along with remakes of "Mahogany" and "Upside Down."
Acquainted with the Night generated two top-five singles on R&R's NAC chart. The follow up album, Love's Silhouette, also scored top radio chart positioning and Billboard Contemporary Jazz Chart top 10 status. Their April 2004 release, No Assembly Required, proved to be another hit album in their long and illustrious career. Pillow Talk, released in March 2006, marked the band's 30th anniversary with a satisfying set that showcased the band's trademark catchy riffs, infectious grooves and compelling vocals.
The youthful exuberance of those two Philly kids from the mid-'70s is still very much alive in Soul Intent, Pieces of a Dream's latest effort on Heads Up. The 11-song set gets back to the basics of Pieces' original songwriting and recording philosophy by reconnecting to the band's original live-in-the-studio approach and maximizing the most fundamental and enduring components of the Pieces experience.
It's that kind of innovation and eclecticism that keeps Pieces of a Dream fresh and authentic in a jazz world that's ever-changing. "We will always be true to ourselves and our roots," says Lloyd, "and at the same time try to stay in touch with the times."
When: Friday January 5th 2012
Where:
Scullers Jazz club (visit Scullers Website)
at the Doubletree Suites by Hilton Hotel Boston
400 Soldiers Field Road
Boston, MA 02134
Show: $20
Dinner & Show: $62
Show times: 8pm.
For tickets and information: 617.562.4111
Since 1989, the legendary Scullers Jazz Club has presented the biggest names in straight ahead, Latin and Contemporary Jazz, as well as Blues, Soul, R & B, Cabaret and World Music. Scullers Jazz Club has hosted some of the very best musical artists in the business including; Chris Botti, Roy Haynes, Jamie Cullam, David Sanborn, Arturo Sandoval, Christian Scott, Tony Bennett, Esperanza Spalding, Christian McBride and Wynton Marsalis to name a few.
Led by Jazz impresario Fred Taylor and by a team of dedicated jazz enthusiasts the 200-seat Scullers Jazz Club has become a true Boston landmark. Offering spectacular views of the Boston skyline and the Charles River, Scullers serves as the perfect backdrop for World-Class Entertainment in Boston.
###