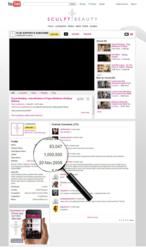 Sculpt Beauty reaches 1,000,000 views on YouTube in just 1 year
(PRWEB) May 19, 2011
After about a year of its launch on YouTube, Sculpt Beauty's video channel at http://youtube.com/sculptbeautytv has surpassed the million views marks. The makeup tutorials channel has consistently grown in viewership, adding more than 2000 subscribers in the last 3 months alone. With the latest achievement, Sculpt Beauty looks forward to produce even more tutorials to meet the demand from its viewers.
Sculpt Beauty's video channel has close to a hundred how-to videos and tutorials on makeup and beauty. The founder of Sculpt Beauty, Uzma Yakoob, presents them herself. As the founder and Creative Director of Sculpt Beauty, Uzma Yakoob is an entrepreneur and businessperson; but more than that, she considers herself an artist. In every video, the loquacious and gorgeous Uzma shows the viewer how to apply makeup to not only look more beautiful, but also to create a style that is their own.
Some of the most popular videos in the channel are: Rihanna Rude Boy inspired eye makeup tutorial, Taio Cruz featuring Ke$ha Dirty Picture, Shakira Waka-Waka Official South Africa and Rihanna - Love the way you Lie inspired makeup tutorials. As the most popular video in the channel, the Shakira Waka Waka video tutorial alone has been seen more than 75 thousand times. The channel also covered the latest Royal wedding with a video tutorial on how to apply makeup like Princess Kate and her sister Pippa. One viewer comment has noted that this was the most realistic video on the Princesses' makeup on YouTube.
Apart from videos about makeup styles of celebrities and Princesses, the channel also covers niche and ethnic makeup styles such as the ones covered in Arabic Eye makeup tutorial, Bollywood Bipasha inspired tutorial and Arabic Khaleeji inspired makeup tutorial.
The company has also launched a completely free iPhone app, which can be used to view Sculpt Beauty's videos and tutorials directly from the viewer's phone itself. This innovative app is the first app that shows makeup tutorials on iPhones. Indeed, among the million views reached by the channel, tens of thousands are likely from the iPhone app itself.
The online ventures of the company are executed in a joint venture with The Secret Network, which is a venture capitalist company specializing in business development, marketing and brand development. According to The Secret Network founder and new partner in Sculpt Beauty AJ "Uzma and I share a great vision and pride ourselves on innovation which is why our partnership works so well. With more than a decade of experience as an award-winning makeup artist, Uzma Yakoob has shared her makeup solutions with countless clients in person. With these videos, she now reaches tens of thousands of other consumers who are interested in makeup. Uzma and I have created so many new avenues for Sculpt Beauty and the YouTube tutorials was just one of them, the milestone of a million views only confirms we have built a huge fan base for videos tutorials within this niche created by Sculpt Beauty. We will continue to focus on providing even more videos for our fans online as well as offline and continue to innovate of new ideas developed within our team" With AJ's 15 years of business experience and Uzma's creative vision this synergy is a great combination to long term success for the business.
Sculpt Beauty is a complete beauty and makeup company that reaches consumers in three different ways. The Sculpt Beauty Training Academy has classes for beauty professionals as well as others. The Sculpt Beauty Online Shop has makeup and beauty products from the line of products designed and produced by Sculpt Beauty; and Sculpt Beauty Makeup Artists draws on more than a decade of experience of the company to provide makeup service to bridal clients as well as mainstream consumers.
The new v1 Sculpt Beauty website is now live at http://www.sculptbeauty.com and features a new innovative design and video intro giving a brief look into what Sculpt Beauty do, the website is interactive and welcomes comments, the news section also includes a 'tweet this' and 'facebook this' button allowing users to share content across their favourite social networks.
Future plans include a version 2 of the Sculpt Beauty iPhone application including brand new innovative features, the application will also be compatible across blackberry and android networks bridging the gap between Sculpt Beauty and the consumer.
http://www.sculptbeauty.com is definitely one to watch, they have grown from strength to strength over the past year and using new innovative ideas to exceed expectations and expand the business to a worldwide audience.
All makeup tutorials are produced and edited by http://www.six2media.com
###