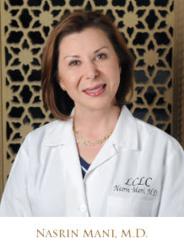 Maybe there is not so much we can do to stop the onward march of Father Time, but with Sculptra, and other new products and technology, we can certainly LOOK younger than we actually are…for a considerable length of time."
La Jolla, California (PRWEB) March 05, 2012
Sculptra became a major game-changer in the cosmetic aesthetic industry by being the only injectable product with the job of stimulating collagen. Dr. Nasrin Mani quickly became a top user of the product as evidence showed it could do things that no other "filler" ever could – or was even designed to do.
As a Sculptra Trainer, Dr. Mani will participate in assisting other eligible physicians in the required training to provide Sculptra in their practice.
Dr. Mani, founder of the La Jolla Cosmetic Laser Clinic in La Jolla, California, is a member of an elite group of core physicians who are able to offer patients true volume restoration through natural collagen stimulation. Unlike other fillers, Sculptra use is restricted to physicians who have particular board certifications.
Completely nonsurgical, the mix of poly-l-lactic acid and sterile water is injected deep into the skin where it stimulates the fibroblasts to make new collagen. The gradual process makes the treatment discreet - so you don't have dramatic changes in a single day - and also makes the desired results highly controllable.
"I love Sculptra!" Dr. Mani is happy to exclaim. "No woman – or man - that I've met enjoys how aging impacts appearance. Maybe there is not so much we can do to stop the onward march of Father Time, but with Sculptra, and other new products and technology, we can certainly LOOK younger than we actually are…for a considerable length of time."
Sculptra Trainers share their expertise and techniques with physicians who are beginning to include the bio-stimulator in their own practice. Proper injection technique, rehydration of product, patient selection and patient goals play a large part in the training process. Combination therapies to achieve a satisfying end result are discussed as well, since no single product or technology is the perfect solution for everyone.
Trained by Dr. Rebecca Fitzgerald, notably the top trainer both here and abroad, Dr. Mani has applied her mentored skills to become the go-to Sculptra physician in San Diego county. "I feel extremely fortunate to have had the very best teacher there is," says Dr. Mani. "I've watched transformations that defy explanation and have happily been able to adopt those skills and techniques for my own patients. It's very exciting!
Dr. Mani has a number of top level positions: Elite level training physician for Artefill, a teaching faculty member for Radiesse, on the Professional Speaker Board of both Allergan and Medicis and has received the San Diego Top Doctor award and an America's Top Doc award for 2011-2012.
Dr. Mani is a Board Certified Ophthalmologic Surgeon with over two decades of experience in laser surgery. She is on the faculty of Scripps La Jolla.
La Jolla Cosmetic Laser Clinic is a full service aesthetic and medical skin clinic. Patients are offered a complete array of procedures including wrinkle fillers, relaxers including Xeomin, Botox and Dysport, and skin resurfacing lasers for sun damage, acne scars and natural effects of aging. LCLC has special treatment protocols for successfully treating skin discoloration and hyperpigmentation, a common problem for San Diego area residents, as well as sclerotherapy and IPL for veins, spider veins and redness. Dermatology skin conditions are treated – many with insurance coverage.
La Jolla Cosmetic Laser Clinic is located in the heart of La Jolla at 1111 Torrey Pines Road, Suite 102, La Jolla, Ca. 92037. Dr. Mani and her staff can be reached by phone, (858) 454 2700 or through the clinic website http://www.LaJollaLaser.com
###