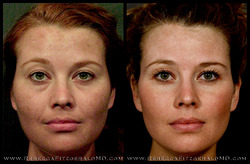 Sculptra is a one-of-a-kind collagen stimulator used for volume restoration in the face. The bio compatible agent creates an ongoing collagen response to achieve a more symmetrical, youthful and balanced facial appearance which can last for years.
Los Angeles, CA (PRWEB) May 6, 2010
Dr. Fitzgerald, well-known Los Angeles Dermatologist and Sculptra Master Trainer, presented at the 2010 annual meeting of the International Master Course on Aging Skin (IMCAS) held in Paris. IMCAS is a huge globally-recognized and globally-attended professional gathering of dermatologists and plastic surgeons. This year's IMCAS was attended by 3200 delegates from 40 countries with 300 speakers.
Dr. Fitzgerald was an invited Expert Lecturer on the Advanced Uses of PLLA (Sculptra) and combined therapies. In a videoed presentation she provided live demonstrations along with her close colleague from Geneva, Switzerland, Dr. Danny Vleggaar and Plastic Surgeon Dr. Jonathan Sykes from Sacramento, Ca. Their joint presentation "Optimizing Outcomes in Aesthetic Rejuvenation" focused on volume restoration.
Discussions included experiences using fat verses synthetics for volume restoration. Dr. Fitzgerald was able to provide in-depth early-on development of Sculptra use gathered from the 'lessons learned from treating HIV lipoatrophy patients'. Also integrated into the presentation was an overview of the anatomy of aging and how volume restoration using PLLA and Hyaluronic Acids impact facial balance and contouring changes caused by the natural aging process of fat and bone loss.
Dr. Fitzgerald is a Master International Sculptra Training physician for Dermik Laboratories, the cosmetic arm of Sanofi Aventis, one of the world's largest pharmaceutical providers. She frequently provides expert level training to physicians here in the United States and across Europe.
Sculptra is a one-of-a-kind collagen stimulator used for volume restoration in the face. The biocompatible agent creates an ongoing collagen response over a number of months helping patients achieve a more symmetrical, youthful and balanced facial appearance which can last for years.
"One of the most exciting aspects of being a part of this international group is the opportunity to learn from each other at levels we'd never be able to achieve otherwise," shared Dr. Fitzgerald. "There are incredibly astonishing changes going on in the fields of cosmetic and surgical dermatology. This is the one event each year that has proven to time and time again give all of us the opportunity to make great leaps in our expertise and knowledge levels. The interaction of physicians from different countries, different disciplines and different medical teachings is phenomenal."
IMCAS provides practical and theoretical training courses in aesthetic dermatology medicine and surgery covered a wide-range of subjects such as stem cell therapy, neuromodulators, dermal filler materials and injection techniques and fractional laser treatment approaches.
IMCAS has become one of the largest, most influential and most representative of international conferences only dedicated to the field of aesthetic surgery and cosmetic dermatology. Its principal objective: the promotion of highest possible standards in clinical practice, education and research in the plastic surgery – dermatology interface discipline or related disciplines (facial plastic surgery, oculoplastic surgery, aesthetic medicine, research, etc.)
Dr. Rebecca Fitzgerald is a popular Board Certified Cosmetic Dermatologist with a busy private practice in the Larchmont Village area of Los Angeles, California. She is a Clinical Instructor of Medicine at the University of California Los Angeles. In addition to her role with Sculptra Aesthetic, Dr. Fitzgerald is a Training Instructor for Allergan products Botox and Juvederm, on the Medical Education Faculty for Bioform and provides physician training for their long term filler Radiesse.
Her research articles on facial aging and the dermatological paths to restoring facial balance and contour are published in the major peer journals. Dr. Fitzgerald is frequently a featured speaker at professional gatherings here and abroad.
Practice information can be found at http://www.RebeccaFitzgeraldMD.com. Dr. Fitzgerald's private practice is located at 321 North Larchmont Blvd, Suite 906, Los Angeles, Ca. 9004 Telephone (323) 464 8046
# # #