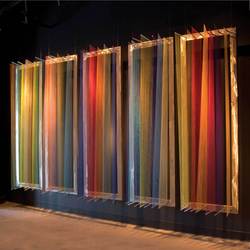 We are delighted to be participating in SOFA West for the first time
Wilton, CT (Vocus) July 1, 2010
From Wednesday, July 7th to Sunday, July 11th, browngrotta arts will present 30 works of contemporary art at the Sculpture, Objects & Functional Art (SOFA) West 2010 exposition at the Convention Center in Santa Fe, New Mexico.
"We are delighted to be participating in SOFA West for the first time," says Tom Grotta, president of browngrotta arts. "Santa Fe is a dynamic and culturally rich city where we expect to find a highly receptive audience for the tapestries, baskets and other works of fiber art that we will exhibit."
One of the highlights of browngrotta arts' presentation at SOFA West will be Randy Walker's Shimmer Frames, a series of five pieces of vibrant fiber and steel that will grace the exposition entrance. Walker, who studied architecture, is known for his large-scale commissions using fiber and found objects to explore wrapped and woven three-dimensional space.
Walker's most recent public artwork, Woven Olla, was unveiled in Santa Fe on June 26th. The City of Santa Fe Arts Commission, in collaboration with the Santa Fe Public Library and a division of the New Mexico Department of Cultural Affairs, commissioned Walker in 2008 to create the three-dimensional, suspended steel and fiber artwork to hang under the main entry of the Southside Branch Library. The sculpture references a traditional Pueblo water jar, or olla, and marks the entry as a gathering place. The piece is an analogy for the Library as a container of knowledge, a resource as precious as water.
Another artist whose work will be highlighted by browngrotta arts at SOFA West is Japanese ceramicist Yasuhisa Kohyama. Kohyama gained widespread attention in Japan in the 60s when he built one of the first anagama kilns in Japan since medieval times. The Tokyo exhibition of works from the first firing of the anagama created widespread interest in Kohyama's work from collectors, curators and Japanese Living National Treasure, potter Shoji Hamada. Kohyama's work has been acquired by the Metropolitan Museum of Art, the Cleveland Museum, the Stedelijk Museum in Amsterdam, the Gardiner Museum in Toronto, the Philadelphia Museum and others. Kohyama's work is featured on the cover of Contemporary Clay: Japanese Ceramics for the New Century. The artist will attend the opening of SOFA West on July 7th.
Other artists whose work will be exhibited by browngrotta arts include Mary Merkel-Hess, Agneta Hobin, Jin-Sook So and Lia Cook.
About browngrotta arts
For 20+ years, browngrotta arts has promoted the work of more than 90 contemporary textile artists and fiber sculptors, including Helena Hernmarck and the late Ed Rossbach. browngrotta arts has brought to the US the work of renowned textile artists from abroad. It has published 37 art catalogs and placed art work in dozens of private, corporate and museum collections in the US and abroad.
For more information about SOFA West 2010 visit: http://www.sofaexpo.com/.
High Resolution Images Available on Request.
###