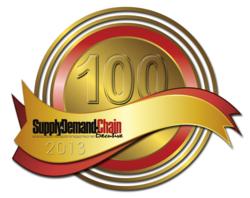 C3 Solutions' inclusion in this year's "100" list recognizes their leadership as a solution and service provider in assisting the Supply Chain function and supply chain executives as their customers move toward supply chain excellence
(PRWEB) May 14, 2013
C3 Solutions, a global leader in software solutions dedicated to the area of yard management and dock scheduling, is proud to announce that it has been selected by Supply and Demand Chain Executive as one of the Top 100 Supply Chain projects.
C3 Reservations, the Web-Based Dock Scheduling System, streamlines the scheduling process by improving dock productivity, expanding visibility on scheduled appointments and measuring vendor compliance.
C3 Yard Smart, the Yard Management system, empowers yard managers by providing visibility on yard assets, optimizing the flow of trailers from gate to gate and automating yard driver task assignment.
The 2013 Supply & Demand Chain Executive 100 are supply chain solutions and service providers that are helping their customers and clients achieve supply chain excellence. They have produced measurable gains in ROI through cost-cutting and increased efficiency in the end-to-end supply chain.
"C3 Solutions' inclusion in this year's "100" list recognizes their leadership as a solution and service provider in assisting the Supply Chain function and supply chain executives as their customers move toward supply chain excellence," Barry Hochfelder, Editor Supply & Demand Chain Executives.
"Obtaining recognition from SDCE, a major contributor to the supply chain industry knowledge, based on a factual case study is truly an honor and makes our entire team at C3 very proud, '' says Nicholas Couture, President of C3 Solutions. ''I'm very happy to be sharing this recognition with my colleagues; everyone here is 100% dedicated towards helping the customer achieve savings and productivity gains."
Methodology
The submissions were evaluated by the magazine's editorial staff primarily based on: ambitiousness/scope of the project, creative application of technologies/solutions/services used, extent of the business results/impact and clarity of submission.
About Supply & Demand Chain Executive
Supply & Demand Chain Executive is the executive's user manual for successful supply and demand chain transformation, utilizing hard-hitting analysis, viewpoints and unbiased case studies to steer executives and supply management professionals through the complicated, yet critical, world of supply and demand chain enablement to gain competitive advantage. On the Web: http://www.SDCExec.com.
About C3 Solutions
C3 Solutions is a leading provider of software solutions dedicated to the area of yard management and dock scheduling. C3's customers are fortune 1000 companies in the retail, manufacturing, transportation and post and parcel industries. C3's products include its award winning yard management software, Yard Smart and its on-demand dock scheduling system - C3 Reservations. Founded in 2000 and based in Montreal QC, C3 Solutions has customers in the United States, Canada, Europe and Australia. For more information on C3's products, schedule a free on-line demonstration.