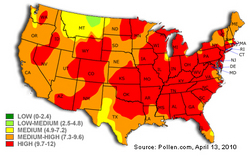 But the good news is that once all of the trees have pollinated, pollen counts will go down significantly
Plymouth Meeting, PA (Vocus) April 14, 2010
According to Pollen.com, the most visited allergy site on the Web, the five areas of the country with the highest pollen activity today are: Grand Island, NE; Lincoln, NE; Topeka, KS; Wichita, KS; Des Moines, IA.
Pollen.com provides conditions by ZIP code, updated daily, and offers 4-day forecasts. The accompanying map shows, in red, areas of the country that are experiencing the highest pollen levels.
"The allergy season is already hammering Americans with a vengeance," said Roxanne Turner, Director of Syndicated Research at SDI, the company behind Pollen.com.
"There are several reasons why certain parts of the country are experiencing significant pollen outbreaks this year," Turner said. "Increased groundwater levels, caused by heavy snow and rain in some areas, led to the ground retaining an enormous amount of moisture. Many parts of the country also had an exceptionally cold winter, which caused a late spring start. Many areas of the country have been experiencing unseasonably warm weather over the past few weeks, so trees that had a pent-up need to pollinate pollinated suddenly. A combination of all of these factors caused pollen levels to explode."
"But the good news is that once all of the trees have pollinated, pollen counts will go down significantly," Turner added.
Allergy sufferers are filling doctors' offices, then visiting their pharmacies to fill prescriptions or buy over-the-counter therapies. SDI prescription data confirm the severity of the season. During the week ending April 2, there were 1.64 million retail prescriptions for allergy drugs. This is 3.7% higher than during the same week last year, the week ending April 3, 2009, in which there were 1.58 million prescriptions filled.
For the most recent forecast and list of the five cities with the highest pollen activity, visit Pollen.com.
About Pollen.com
Pollen.com, a division of SDI, has been supplying important information to millions of people with allergic conditions for more than 10 years. With reliable, up-to-the-minute allergy forecasts that show upcoming local airborne allergen conditions, along with the weather forecast, Pollen.com prepares allergy sufferers for the day by offering all the facts – at a glance. Among its free services, Pollen.com offers charts of current and predicted pollen levels, pollen histories, e-mail alerts, and educational materials on how to manage seasonal allergies.
About SDI
SDI is a leading healthcare market insight and analytics firm. It provides the industry's most comprehensive de-identified patient-level data to pharmaceutical, biotech, and medical device companies, enabling them to better understand the healthcare market. SDI also serves the government and the financial services, media, and consumer packaged goods industries. Founded in 1982, SDI counts the world's top 50 pharmaceutical and biotech firms as its clients.
###